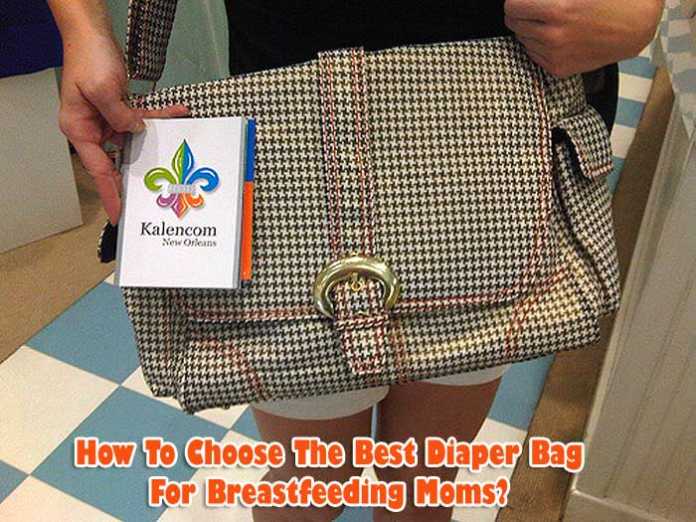 Diaper bags help to keep all baby essentials close at hand but sometimes even the most seemingly simple products can prove remarkably complex especially when you are trying to find the one that's right for you.
Sale
It doesn't matter how much of a minimalist you are, the fact is babies require a lot of stuff – diapers, wipes, baby food pouches, pacifiers, extra outfits, and so on.
It is impossible for all of these to fit into your tote bag; this is why you need a bag that has been specifically designed to fulfill this purpose.
A bag with a mom's friendly features such as convertible straps that enables you to carry it in multiple ways, insulated pockets for bottles, ability to attach it to a stroller, pockets for organizing, and plenty of interior room is ideal.
In this guide, we would be looking at what to look for in a diaper bag and some of the best products on the market to guide you towards the choice that is best for you and your baby as well.
What to Look for in Diaper Bag for Breastfeeding Moms?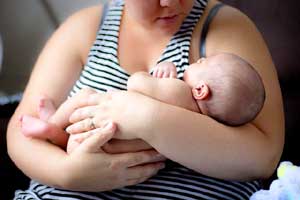 Quality: The first thing that you want to consider when buying a diaper bag is the quality of materials it is made from. The zippers should be metal hardware instead of plastic hardware as you would want a bag that will last for long. It would also be great if it is machine washable.
Appearance: This is the bag you are going to be carrying every day. It is basically your purse so you should go for a bag you would like to carry and feel pretty with it too.
Caring Options: It is important to know how you want to carry your diaper bag. Do you want a bag you can carry across your body or one with a messenger strap that go easily go over your shoulder? Do you want backpack straps or little handles?
Storage: You might want to think about where the outside and inside pockets are located when you are shopping for a diaper bag. Having a bag with good pockets placement is important because it helps you to stay organized.
Price: The amount you are willing to spend on your diaper bag is really up to because at the end of the day you get what you pay for.

Top 10 Diaper Bags for Breastfeeding Moms
1. MotherlyLuv Breast Pump Tote Bag
This first diaper bag is a package deal as it has one sleek breast pump bag, multiple inserts, and other accessories.
The many inserts and additional bags make staying organized a breeze.
The main purse of this diaper bag is made with faux leather and nylon lining.
The design of this bag is straightforward and simple.
It has no patterns or embellishments.
The main compartment is not too spacious but it is large enough to hold a good number of diapers that would last you through the day.
It also has a wet bag that any towel or wet items can be kept in without having to worry about soiling the rest of the bag.
Pros
Stylish and discreet.
Compatible with most portable pumps.
Good value for money.
Durable and functional.
Check Price at Amazon

2. Breast Pump Bag By Gogoso
The next mom-loving diaper bag is a multi-functional bag that can be used as a backpack or a handbag. It is made of high-quality polyester and strong zippers.
This diaper bag is a perfect blend of comfort and style as it allows you to carry all the items that are needed by a mom including diapers.
It features a USB charging port where you can charge your electronic devices.
It has 5 interior storage pockets that include 2 insulation bottle pockets that help to keep your milk fresh.
Pros
Great quality.
Easy to wipe clean.
Lightweight.
Easy to carry.
Check Price at Amazon

3. Breast Pump Backpack by Bagnation
It has a built-in snack storage area making it ideal for working moms on the go. This bag can keep your items cool for up to 10 hours thanks to its insulated pocket.
This diaper bag has 8 pockets where you can keep your diapers and other baby essentials.
It is made of high-quality nylon that is waterproof and easy to clean.
It can fit most portable breast pumps comfortably.
Pros
Functional
Versatile
Comfortable and durable
Spacious and smart
Check Price at Amazon

4. Sarah Wells Lizzy Breast Pump Diaper Bag
This diaper bag for breastfeeding mom comes in multiple fun yet classic parts. It can fit most portable pumps on the market.
The diaper bag has thermally lined pockets on both sides.
It can keep the breast milk cold for up to 6 hours with an ice pack.
It has two photo pouches that allow you to see your little ones while pumping.
This diaper bag features a two-way snap system where you can keep your diapers and laptop.
Also, it has exterior zip pockets for phone, keys, and train card as well as an interior zip for everything else.
They are made of lightweight performance materials that are very easy to clean.
Pros
Easy to clean
Lightweight
Durable
Stylish and functional
Cons
It doesn't fit spectra pump.
Check Price at Amazon

5. New Yorker Breast Pump/Diaper Bag (Recommended)
This is one of the best diaper bags for breastfeeding moms on the market. It is made from high-quality material and has a sleek design.
This diaper bag can easily blend right in like a purse.
The New Yorker bag combines practicality with fashion as it can be carried across the body in a messenger style or as a tote bag.
Both of this style offers comfortable and wide traps that do not strain the shoulders.
It has enough space to store all the basic essentials that you may require.
The bag is very durable and can withstand heavy carrying and daily use.
It is designed to fit all the well-known portable breast pumps.
Pros
Stylish
Universal pump and cooler compatible.
Intuitive and organized design.
Quality construction.
Check Price at Amazon

6. Bananafish Madison Electric Breast Backpack
This is an expensive bag that has the capacity to carry all your basic pumping items and diapers. The multiple pockets in this bag help to keep everything in its proper place.
It is very durable and can withstand a little weather.
Its portable size makes it perfect for travel or storage.
Pros
Great price.
Multiple pockets.
It is available in multiple sizes.
Cons
Zipper issues.
Inconsistent quality.
Check Price at Amazon

7. Sarah Wells Abby Breast Pump w/ Real Leather Straps
Sarah Wells is known for creating stylish diaper bags and this model doesn't fall short of the quality you can expect. This is the most expensive bag on this list but it makes up for it with its superior materials.
This diaper bag is made from pure nylon that is easy to clean.
The straps are also made from genuine leather.
This bag is available in 3 color options, namely navy, black, and navy with a white strip.
It can hold all major portable breast pumps.
The large compartment inside this bag can hold your laptop, diapers, and other basic necessities with ease.
There are also additional pockets in this bag that allows for better organization of items.
The pockets on either side of this bag are thermally lined.
This bag can keep your breast milk cold for up to 6 hours.
Pros
Durable
Value for money
Comfortable
Sturdy and easy to open the pockets.
Made from high-quality materials.
Cons
The bottom seam does not always handle heavy use.
Check Price at Amazon

8. Baby Bag Diaper Backpack Breast Pump Bag
If you are looking for a bag that would take the strain off your shoulders then this bag is a stylish alternative to the regular purse.
The shoulder pads are padded making it comfortable to carry.
It has a sleek design that keeps the backpack from looking bulky.
This diaper bag can handle any breast pump including hospital grade pumps.
There is also enough room in this bag to fit your ice packs, diapers, bottles, and all your other items.
Pros
Fairly inexpensive.
Durable.
It is comfortable to carry.
It helps to free up your hands so you can carry your.
Cons
It is not made of high-quality material.
Check Price at Amazon

9. Chertsey Breast Pump and Diaper Bag
Chertsey breast pump bag is both functional and fashionable. It has enough space for a breast pump, diapers, a wet and dry bag, and other items that you may need.
It can fit all portable pumps including Medela and Spectra.
The pockets in this bag are thermally lined.
It can help to keep your breast milk cold for up to 6 hours with some ice packs.
Pros
It is an all in one bag.
Lightweight
The shoulder pads are padded.
Compatible with all pumps.
Cons
This bag can be expensive for some moms.
Check Price at Amazon

10. Bambini & Me Diaper Bag
This diaper bag for moms is a stylish and functional bag. It has 8 spacious pockets that can easily fit all your personal items and baby essentials.
It has an adjustable shoulder strap that makes for easy transitioning from a car to the mall.
This bag comes with an insulated bottle and a changing pad.
It can fit lots of diapers and most portable pumps.
Pros
8 spacious pockets.
Adjustable shoulder straps.
Easy to clean fabric.
Free changing pad included.
Cons
No inner pockets to help to keep your belongings organized.
Check Price at Amazon

You will probably be using a diaper bag from the birth of your baby to toddlerhood and even beyond.
It is important to find the bag that is absolutely smart and durable to last you for years.

Image Credit Flickr Creative Commons – jfleischmann.