The BEST Manual Breast Pumps for Travel Reviews: If you have to travel without your baby and you are breastfeeding, you will have to pump to keep up with your breast milk supply. Whether for pleasure or business, sometimes you have to travel away from home as a nursing mom.
Sale
The BEST Manual Breast Pump for Travel
Our Pick
Our top pick for the best manual pump for travel is Medela Harmony Breast Pump. Its lightweight and portable design make it easy to transport. It offers a mix of affordability and performance. It features a unique swivel that makes finding a comfortable position when expressing a lot easier.
It might be a night away with friends, a wedding, or a work trip. Being away from your baby does not mean you have to stop breastfeeding.
With the best manual breast pump for travel, you can express milk on the go to maintain your supply.
Best Manual Breast Pumps For Travel Comparison Table

Currently, there are 3 different models of breast pumps available in the market place. They are Electric Pumps (Single & Double), Battery-Powered Pumps, and Manual pumps.
Manual Pumps: Manual pumps allow for a more natural experience giving you the ability to control the level of suction by hand. Manual pumps are convenient because they are lightweight and they can be used almost anywhere. They are also the least expensive. Manual pumps are ideal when you are separated from your baby for a short period or when you would like to express milk away from home.
Battery-Operated/Electric Pumps: A single electric pump is the right choice when you need a moderate amount of milk in a short time. A double electric pump is an excellent choice for a working mom to express larger amounts of milk in a shorter period for extended separation from your baby.

Advantages of Manual Pumps Over Other Types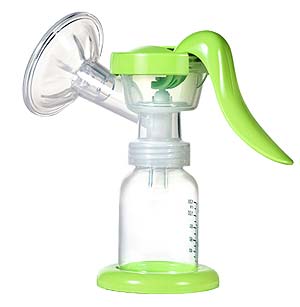 Comfort: Some moms prefer manual pumps because they are more comfortable to use. A manual breast pump allows you to control the suction, unlike some electric breast pumps. Depending on what works best for you, you can pump faster or slower.
Ease of Cleaning: There are fewer parts to clean with a manual breast pump compared to an electric pump. Manual pumps are easy to disassemble, and once you wash them, you can allow them to air dry till you need them again.
Easy to Use: You don't have to be a genius to operate a manual pump. Unlike electric pumps that are sometimes intimidating to operate, manual pumps are quite straightforward to use.
Quiet: Manual pumps are quite in operation, unlike electric pumps. You might get a squeaking sound once in a while, but this is much easier on the ears. This is especially useful if you don't want to wake a sleeping baby.
Portability: Manual pumps can go anywhere with you. You can quickly put them in your suitcase or purse. Most electric pumps require an outlet to work, or you might need to carry a lot of batteries with you. This makes it challenging to take on travel trips. Also, they are heavier than manual pumps.
Price: Manual pumps are more inexpensive than electric ones. It does not have an electrical component which helps to keep its price down.

Top 6 Best Manual Breast Pump For Travel
1. Lansinoh Manual Breast Pump
Lansinoh Manual Breast Pump features an ergonomic handle that helps to keep your hand from getting tired or cramped.
The closed pumping system helps to stop bacteria and mold from forming while also preventing the milk from backing up in the tubing.
What makes this pump unique is the presence of two modes – Expression and Stimulation.
The combination of these allows for higher breast milk production in a short time.
Its discreet and lightweight design makes it ideal for travel.
The handle and shape of the Lansinoh Manual Breast Pump make them very easy to operate.
It is easy to assemble and comes with extra valves and spare diaphragm.
The bottle stand makes this pump more stable.
It comes with natural wave nipples that allow you to use them for feeding, storing, and pumping.
The high portability and ergonomic design of the Lansinoh Manual Breast Pump make it an excellent travel breast pump.
This unit also has breast shields that can fit both large and standard breasts.
It is compatible with Lansinoh's milk storage bottles and Momma bottle.
Pros
Two-phase pumping.
Quiet operation.
Easy bottle removal.
Cons
Some moms experienced occasional leaking around the breast shields.
Check Price at Amazon

2. Philips AVENT Manual Comfort Breast Pump
The Philips AVENT Manual Comfort Breast Pump features a compact design that makes expressing milk on the go easy.
It has a design that allows you to sit comfortably without the need to lean forward. This will enable you to produce milk without strain.
The ergonomic handle allows you to pump a lot of milk without getting tired, and it helps to prevent hand fatigue.
It features a textured massage cushion that helps to stimulate milk, making it more comfortable to use.
It has a breast pad that is gentle on the nipples, which let you express for a more extended period without fatigue.
The five petals on the cushion are designed to stimulate milk flow and imitate an infant's suckling.
The Philips AVENT Manual Comfort Breast Pump is easy to assemble and clean, which adds to its appeal as a great travel pump.
Pros
Compact and lightweight.
Comfortable pumping position.
Easy latch system.
Textured massage cushion.
Cons
Does not fit all standard bottles.
Check Price at Amazon

3. Medela Harmony Breast Pump
Medela Harmony Breast Pump's small and lightweight design makes it easy to transport discreetly when you are away from your baby.
It is very portable so you can put it in your purse or suitcase to pump on the go.
It features a two-phase expression technology that mimics a baby's natural nursing pattern.
It helps to produce more milk in less time.
It has a soft ergonomic handle that makes manual pumping comfortable.
It has a convenient bottle stand that provides a secure home for your expressed milk.
The Medela Harmony Breast Pump is not only BPA free and lightweight, but it is also very efficient.
Pros
Easy to assemble.
Small and lightweight.
Two-phase expression.
Comfortable pumping experience.
Cons
The membrane is very delicate.
Check Price at Amazon

4. Haakaa Manual Silicone Breast Pump
The Haakaa Manual Silicone Breast Pump is specifically designed to stimulate breast milk production.
It is easy to travel with and functions by using the pressure from natural suction.
This unit can serve as both a manual breast pump and a milk collector.
It is free from phthalates, BPA, and PVC, which makes it safe for use.
It feels comfortable on the breasts, and it is made of food-grade silicone.
This pump is compatible with all Haakaa breast bottles.
With no batteries, cords, or buttons, the Haakaa Manual Silicone Breast Pump is a champion of simplicity.
It is straightforward to use, and it is a perfect option for those looking for an affordable travel breast pump.
It is excellent for long distance trips, car rides, or planes.
Pros
Affordable.
Easy to use.
Portable and lightweight.
Comfortable and practical.
Cons
Might not suck very well after some time.
Check Price at Amazon

5. Haakaa 3rd Generation Manual Breast Pump
The Haakaa 3rd Generation Manual Breast Pump is made of 100% food grade silicone that is very soft, safe, and comfortable.
It offers a perfect fit for all breast sizes.
It is comfortable to use when you are on travel trips as no manual work is required. All you have to do is attach and remove it.
They are noise free as well as comfortable and quick to clean.
It is small enough to fit your diaper bag or purse.
The Haakaa 3rd Generation Manual Breast Pump can serve as a manual pump and a breastfeeding friendly bottle. This allows you to pump and feed your baby with less mess.
The wide bottom gives it stability, so it doesn't tip over by accident.
Pros
Easy and quick to clean.
Portable and light.
BPA, PVC, and phthalates free.
Cons
According to some moms, it does not create enough vacuum for suction.
Check Price at Amazon

6. Freemie Equality Double Concealable Manual Pump
Freemie Equality Double Concealable Manual Pump is specially designed to fit under the clothes.
It allows on the go moms to pump in public places without exposing yourself.
It is easy to carry and lightweight.
It features an adjustable suction strength and a simple hand pump that makes it comfortable to express your milk.
This pump is quiet and discreet.
The easy pull Equality pump and Freemie collection cups make this unit easy to use and offers unparalleled versatility.
Pros
Strong suction pressure.
Extremely lightweight.
It can be used with the clothes on.
Easy to adjust.
Cons
It does not work well for women with small nipples and large breasts.
Check Price at Amazon

Manual pumps are great for occasional expression when traveling, and breastfeeding is not an option. The best manual pump for travel allows for a quick and painless expression.

Key References
"Types of Breast Pumps | FDA". Accessed June 16, 2019. Link.