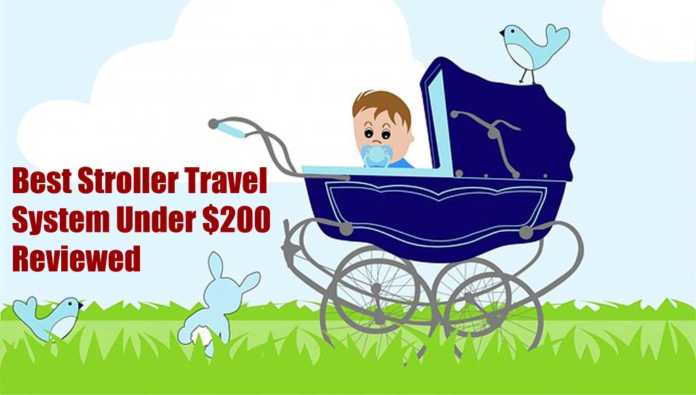 The logistics of moving from one point to another can be overwhelming especially for first-time parents. One of the smartest purchases new parents can make is a travel system. Here are the top 5 best stroller travel systems!
Sale
Best Stroller Travel System
Our favorite travel system is the Evenflo Sibby Travel System. This unit gives you many ways to configure the seat. It has an innovative fold design that makes it easy to store. It has everything you need to make life more comfortable and easier for you and your baby.
We ♥ honesty! Diaper News earns a commission through the following hand-picked links at no extra cost to you.
A travel system is a stroller and infant car seat combo that allows you to easily clip a regular stroller frame into an infant car seat. This makes it easy to transfer a sleeping baby from your car to the stroller without having to wake them up.
Why Would a Parent Look for This?
It is not every parent that need or want a travel system as some would prefer to wear their babies.
Buying a travel system has some key benefits; one of such is that young babies cannot ride in most strollers until they have full neck and head control (usually around 6 months).
Therefore, some parents wait to buy a stroller so they either baby wear or hold their babies when leaving the car.
Doing this can wake them up if they are asleep; to avoid this inconvenience more families are buying a travel system.
Going with a travel system saves a parent from having to research which stroller fits best with which car seat.
All you need to do is select the system that best suits your needs.

What to Look for When Choosing a Travel System?
1. Combo vs. Separate Pieces
There are 3 pieces in a travel system combo; the stroller, the car seat, and the base.
The advantages of buying a car seat and stroller combo are that pieces all work together and you don't have to shop for them separately.
If you are buying a stroller and a car seat separately, you will need to look for an adaptor.
Always ensure that the car set and the stroller you like are compatible or there is an adaptor that works for them.

2. Location and Lifestyle
When choosing a travel system, it is essential to consider how you want to live your family life.
For a city dweller that navigates through public transport and through curbs or a suburban parent that drives regularly, these activities should influence your buying decision.
You should consider what your everyday activities will be and the smoothness of the ride.
The best travel system can help to minimize the disturbance of a sleeping baby when you get in and out of the car.

The travel system you need depends on the number of children you need to carry.
They design some models for one child while they design others to carry two or more children.
There are stroller systems that have up to 10 configuration options, this allows for maximum flexibility to suit different lifestyles.

After you have considered some of your favorite travel systems, your budget will help to narrow down your options.
Lightweight strollers are usually cheaper while those with the full features are pricier.
Deciding on what you need this system can help you choose a budget.

Top Stroller Travel System
In this guide, we have reviewed the best stroller travel system, so you can find the one that works best for your budget and lifestyle.
1. Disney Baby Minnie Mouse Amble Quad Travel System
Our first best stroller travel system is Disney Baby Minnie Mouse Amble Quad Travel System. The features of this travel system include:
This travel system offers a fun way to travel with your baby.
It has a car seat that can accommodate children from 4 to 22 pounds.
The car seat and the stroller are lightweight as they weigh 7. 6 pounds and 16. 4 pounds respectively.
The stroller has a maximum capacity of 50 pounds.
This travel system has maneuverable tires that make it easy to steer in crowded spaces and tight corners.
They make the tires from EVA foam and the wheels from polypropylene.
The well-padded car seat protects and comforts your baby.
The main stroller has two strays; one for the parent and the other for the child. This travel system is easy to mount.
Pros
It has a quick click design that makes it easy to transition from a car seat to a stroller.
The infant car seat cover is machine washable.
It has two canopies.
It has an adjustable head cushion.
Convenient and secure.
Cons
No infant head support.
It lacks a suspension system.
Check Price at Amazon

2. Graco Roadmaster Jogger Travel System
The next stroller travel system under 200 bucks is Graco Roadmaster Jogger Travel System. This travel system combines all the convenience and comfort features of a traditional jogging stroller.
The fast action fold design of this unit makes it easy to fold.
It folds up small making it easy to store.
The removable seat is easy to clean.
It has large expandable canopies that protect your child from the sun.
This unit has a large storage basket.
This travel system is available in four different color combinations – Koda, Spencer, Zink, and Hudson.
The air-filled rubber tires make it easy to steer and push along.
The front swivel wheel in this unit locks in place to allow parents' total control.
The seat has reclining abilities for maximum comfort.
It can accommodate children from 4 to 30 pounds.
The 5-point harness has an adjustable strap that adjusts easily as your child grows.
Pros
Durable.
Fast action fold.
Large expandable canopy.
Cons
This travel system might be slightly hard to steer or maneuver with heavier babies.
The mesh back is thin and can easily get torn.
Check Price at Amazon

3. Baby Trend EZ Ride 5 Travel System
The next stroller travel system comes with a stroller, highly rated Flex-Loc Infant Seat, and the base that goes under the car seat.
It comes with multi-position reclining seat options and adjustable handle for height.
This travel system is FAA approved. (See best double strollers for air travel here).
It's so simple to move the baby straight from the car to the stroller.
It's a breeze to fold when you're not using it since you can fold it with just one hand your other hand is always free to hold or comfort your little one.
The included carrying strap ensures easy to transport wherever you are going.
The fast action fold stroller has a lightweight, sturdy frame that's easy to lift and carry.
This terrific stroller accommodates children from infancy to 50 pounds.
The stroller features a thick and comfortable padded seat with various recline settings.
The front wheels swivel is easy to maneuver while you're walking.
The parent's tray has two deep cup holders and a storage compartment along with a large basket.
There's also a child's tray with a cup holder which pivots, so it's always easy to get the baby in and out of the stroller.
To make sure your child is always secure the fast section fold click connect travel system offers a convertible three or five-point harness.
Pros
Convenient to use.
Easy to fold.
High quality.
Easy and quick to assemble.
Cons
The car seat canopy is not always steady.
Check Price at Amazon

4. Cosco Lift & Stroll Travel System
The next stroller travel system is Cosco Lift & Stroll Travel System. This unit comes with an infant car seat perfect for your little ones.
It has a stay in care base, and it can accommodate children weighing between 4 to 22 pounds.
The car seat has a side impact protection that helps to keep your little ones safe.
It has an easy to adjust a 5-point harness and lightweight stroller.
The straps help to ensure your baby are safely and securely strapped in.
This travel system folds compactly, and it is easy to store.
The parent tray has 2 cup holders and a child tray with a cup holder.
Pros
Easy to fold Inexpensive.
The QuickClick feature makes it easy to attach the stroller.
It is safe for your little one lightweight.
Easy to assemble.
Easy to use.
Cons
Might be hard to unlock the car seat from the vehicle's base.
Check Price at Amazon

5. Evenflo Sibby Travel System
This is a 3 in 1 travel system as it can serve as an infant car seat carrier, infant stroller, and a toddler stroller.
This travel system is perfect for growing family which includes the stroller with LiteMax infant car seat, and LiteMax car base.
It comes up with a Ride-Along board on the back of the stroller which allows 2 children to ride at the same time.
The cool part is that this Ride-Along board can be folded up when not in use.
As your baby grows, you can provide them with the choice to sit, ride or stroll in this travel system which will avoid you to buy a second stroller later.
Once the stroller is folded, it easily fits into small cars even with the attached Ride-Along board.
Another really cool feature this travel system comes with is the large storage basket and a mesh pocket on the seat back. It provides extra space for keeping the essentials.
When you reach the destination, you can easily convert the car seat into a stroller with just 1 secure click!
The stroller also comes with a fully-covered canopy, front harness adjust and a plush baby head pillow.
This travel system is a perfect option for parents who want gender neutral colors that future children can use (Grey/Charcoal).
The handle on this travel system is easy to move up and down.
It has an adjustable umbrella that can help to shield the baby from sudden drizzle or sun.
It is lightweight and easy to fold.
It can accommodate up to 50 pounds in weight.
Pros
3 in 1 travel system.
You can use it for a toddler.
Lightweight and compact.
Ride-Along board makes it versatile for a growing family!
Cons
It can be expensive for some parents.
Check Price at Amazon

Sale
Best Stroller Travel System
Our top recommendation for the best travel system is the Evenflo Sibby Travel System. This travel system (stroller + car seat) is easy to fold and accommodate up to 50 lbs of weight and comes with Ride-along board.
The travel system is one of the most popular strollers these days because of its many advantages. There is a lot of fantastic travel system on the market; both standard and jogging strollers.
When buying a travel system, it is important to check if the infant and toddler seat has all the features you need.