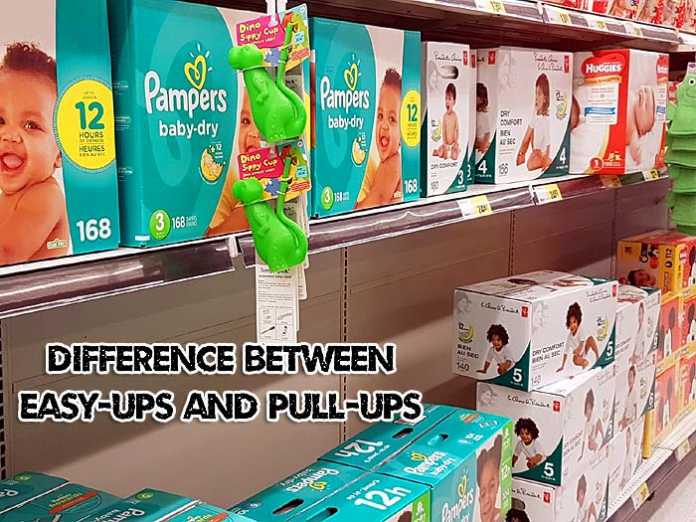 A lot of times parents worry about what is best for their children; so wondering if easy ups or pull ups is better is a pretty normal thing. When you are overwhelmed with information, it is normal to ask what the difference between easy ups and pull-ups are.
We ♥ honesty! Diaper News earns a commission through the following hand-picked links at no extra cost to you.
Typically, parents should not worry too much about this as every child is different. This guide will help you decide whether easy ups or pull ups is best for your child.
Easy ups diaper is a product of Pampers. They are potty training diapers that fit like underwear. Easy ups are like pull-ups, but they are less bulky and are made of soft, stretchy materials. They have a stretchy waistband that makes it easy to pull up and down.
Easy-ups are available for boys and girls in various fun designs and in different sizes. They provide excellent protection from leaks both during the day and at night.

Pull-ups, on the other hand, is a brand of potty-training pants from Huggies. They are made of absorbent material and are relatively more comfortable for toddlers to pull up and down. They are accommodating for children who are ready to potty train but do not have bladder control yet.
Accidents can be upsetting and discouraging for some children so pull-ups can help to boost your child's confidence as they work towards bathroom dependence.

5 Differences Between Easy Ups and Pull Ups
| | | |
| --- | --- | --- |
| Makers | Pampers | Kimberly Clark makers of Huggies |
| Velcro Sides | No Velcro sides, they have to be stripped to remove them. | They have Velcro closures that are refastenable. |
| Sizes | The sizing run small. | They are available in a wide variety of sizes. |
| Price | They are slightly more expensive. | Relatively cheaper. |
| Wetness Indicators | No | Yes |

If you have been wondering if there are actually any differences between pull-ups and easy ups, hopefully, this article has solved your mystery.
So, are pull-ups and easy ups the right choice for your child? If you can get a good deal on any of these with cool characters and fun designs, maybe they might be worth a shot to try them to potty train your child. Just don't be amazed if your child ends up treating them like regular diapers or if they don't make much of a difference.
Please share your experience with us in the comments section if you have found either easy ups or pull ups more useful for your child.