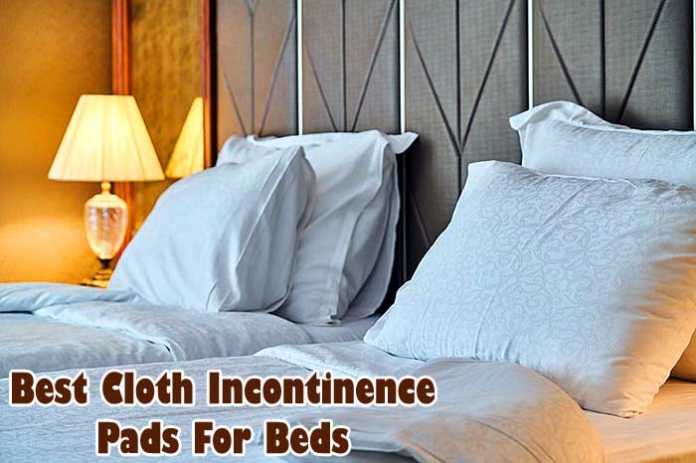 Best Cloth Incontinence Pads for Beds: Having an incontinence problem is not easy – sometimes, you will accidentally pee on your underwear, especially if you are sleeping. That's why we have incontinence products such as incontinence pads and washable cloth bed pads.
Sale
Best Cloth Incontinence Pads For Beds
Our Pick
After thoroughly reviewing each incontinence cloth bed mats on the market, the best one is from Priva. It is made of non-toxic and only soft materials, durable enough to last for years, features a large surface design, non-slip and waterproof backing, and certified by a third-party lab.
We ♥ honesty! Diaper News earns a commission through the following hand-picked links at no extra cost to you.
Incontinence pads are often used during daytime especially when you're out of your house to do some errands while bed pads are used during the night time to avoid making your bed wet and so that you can sleep soundly and peacefully – without any disturbance.
If you want to sleep comfortably, especially at night, make sure to buy only the best bed pads on the market. To do that, you should set some features to look for when purchasing the best cloth bed pads for incontinence for beds. It includes:
Made of soft materials.
Fast absorbent speed.
Waterproof pads.
Reusable bed pads.
Breathable.

Advantages of Cloth Incontinence Pads for Beds
Incontinence can happen to anyone – it doesn't choose the age of a person. For those elders who are bedridden, incontinence exists and usually results in having bedsore – and that's the most challenging part. Here are the following advantages of using washable incontinence pads:
Money-saving.
Environmentally-friendly.
Protect the bedding.
Less prone to moving when sleeping.
Higher absorbency level.

1. RMS Ultra Soft Incontinence Bed Underpads
RMS washable incontinence bed pads is a 4-layer bed pad that is ultra-soft and comes in 5 different sizes to accommodate your requirements and needs.
It offers comfort and waterproof protection, keeping your bedsheets dry throughout the night.
It features a 4-layer of protection that is made of deluxe polycotton, soft polyester fiberfill layer, premium brushed polyester quilted top, non-slip & latex-free waterproof barrier, an absorbent inner layer.
Absorbs quickly and locks in moisture to keep the skin protected.
It goes over the bottom sheet to protect the mattress and sheets from getting wet and stains.
These adult bed pads cannot only be used for adults but also for babies and pets to protect the fabric from getting wet and protects their skin.
Pros
Features 4-layer of protection.
Made of ultra-soft and breathable materials.
Waterproof & non-slip backing.
Absorbs liquid quickly.
Cons
Sizes are inadequate.
Bulky.
Check Price at Amazon

2. Careoutfit Incontinence Underpads
Careoutfit reusable incontinence pads come in 4 different colors in one pack, perfect for adults, pets, and kids.
These absorbent bed pads are also washable and reusable – and it can last up to 350 washes.
The face fabric is made of 55% cotton and 45% polyester while the soaker is made of 95% polyester and 5% rayon.
It is made of only soft materials that are heavy metal-free.
These washable bed mats can absorb up to 7 ounces of liquids and features a waterproof backing.
Pros
Quilted top and absorbent inner core.
Made of soft, heavy metal-free materials.
Waterproof backing.
Hospital-grade & lab tested for safety.
Cons
Do not stay in place.
Thin fabric.
Check Price at Amazon

3. Medline Softnit 300 Underpads
Medline Softnit 300 bed chucks resist staining and protect the bedsheet from getting wet, especially during night time.
These washable pads are durable and comfortable and can be used not only for incontinence but also for continence management, pet training, and potty training.
It is made of waterproof, vinyl-knit barrier and twill facing withstand multiple washing as well as drying cycles while staying soft & leak-proof.
It features a large surface design to cover large areas, especially if you often move while you sleep.
It absorbs liquid quickly to keep the skin dry and protected from wetness.
These underpads for bed are free of harmful chemicals, making your skin healthy, soft, and not irritated.
Pros
Durable, soft and comfortable.
Free of harmful chemical.
Made of Quilted cotton and polyester.
Waterproof backing and vinyl-knit barrier.
Features a large surface design.
Cons
Stiff.
Doesn't absorb liquid well.
Check Price at Amazon

4. Western Textile Underpads
These washable underpads for incontinence from Wester Textile are made from in the USA; it is specially designed to protect and lengthen the life of your mattress and bedding while saving money.
It is constructed for the healthcare industry using a durable vinyl knit backing or waterproof barrier protecting the mattress & bedding.
The soaker pad for incontinence is made of 10-ounce absorbing material, and it is made to be extra absorbent for superior protection.
The top layer of these cloth bed chucks is made of 50% cotton and 50% polyester twill for long life cycles.
It comes in a large size design to accommodate larger areas and be comfortable while you are sleeping.
These chux pads are not only comfortable and soft to use but also durable enough to last for years.
Pros
Large incontinence bed pads.
Extra absorbent.
Made of 50% cotton & 50% polyester.
Durable.
Cons
Slippery backing.
Not ideal for heavy incontinence.
Check Price at Amazon

5. Priva Sheet & Mattress Protector (Recommended)
Priva Sheet & Mattress Protector comes in 4 pieces of bed pads per pack; it provides not only great value and quality but also a great price.
Each Priva reusable underpad offers 4 layers of protection that are made of soft quilted thirsty cotton and polyester, polyester fiberfill layer for extra softness, a vinyl waterproof barrier with a smooth knit polyester finish, and super absorbent high-density inner layer.
It is certified by a third-party independent lab to be free of harmful chemicals such as lead, mercury, cadmium, and all phthalates.
Priva cloth chux pads are durable enough to last up to 400 washes.
These reusable underpads for incontinence from Priva absorb quickly and lock in moisture to keep the skin dry, protected, and prevent having skin discomforts.
It features a non-slip backing so that the underpad keeps in place even if you often move when sleeping.
Pros
4 layers of protection.
Soft, durable, and comfortable.
Certified by a third-party lab.
Free of harmful chemicals & absorbs liquid quickly.
Waterproof & non-slip backing.
Cons
Plain color available only.
Check Price at Amazon

6. Wave Medical Products Bed Pads
Washable chux from Wave Medical Products helps restore dignity to patients while protecting them from prolonged exposure to urine.
It is made of a soft cotton-polyester blend to ensure softness and comfortability, especially when sleeping.
It features a Vintex vinyl backing to stop urine from leaking through the bedding and furniture.
These washable bed protectors from WMP are made in the USA and comes in 4 pieces per pack that feature large sizes.
Each washable bed chucks from WMP is highly absorbent – holding up to 8 ounces of liquid.
It features a durable 360-degree lock stitching around all edges deter fraying leaks from long-lasting durability.
Pros
Made of soft, breathable, and comfortable materials.
Waterproof Vintex backing.
Features large sizes.
Durable 360-degree lock stitching.
Highly absorbent.
Cons
Side stitches will become to unravel when machine washed.
Check Price at Amazon

BH Medwear cloth underpads for incontinence are specially made for people with incontinence problems and help them to be protected from wetness and avoid developing skin discomforts and bedsores.
These adult incontinence pads from BH Medwear are made of 30% polyester, 20% vinyl, and 50% cotton to ensure its softness when in use.
It features a waterproof barrier to prevent your bed from getting wet.
It comes with a heavyweight and super absorbent soaker to ensure that the liquid will not stay on your skin for long.
Each cloth underpads for incontinence is made in large sizes to accommodate the needs and requirements of active sleepers.
These incontinence bed protectors are noiseless, so you can guarantee that it wouldn't make a sound even if you move a lot while sleeping.
Pros
Made of ultra-soft materials.
Comfortable, durable, and breathable.
Heavyweight & super absorbent soaker.
Features large sizes.
Noiseless.
Cons
Rough fabric; not for bedridden people.
Check Price at Amazon

8. Epica Premium Quality Bed Pad
Epica premium quality cloth incontinence pad is the one you can rely on when it comes to leak protection – because, for them, you deserve a good night's rest.
It features a non-slip backing with soft fabric to ensure that it keeps in place while you are sleeping.
It comes in a quilted 3-layer fabric that feels comfortable against the skin while it absorbs liquids and protects against spills and stains.
These washable underpads for beds create a waterproof barrier between any liquid and your skeets or mattress.
The Epica bed pad draws moisture away from your skin and keeps it away, so you remain comfortable while your sheets and mattress stay dry.
It features a large surface design to give you plenty of room to move around while you are sleeping without worrying that you wander off the pad.
Pros
Non-slip & waterproof backing.
Quilted 3-layer fabric.
Lage surface design.
Soft, durable & comfortable.
Check Price at Amazon

9. Utopia Bedding Incontinence Pad
Utopia Bedding quilted bed pads for incontinence offers full protection for people with incontinence issues – to help protect themselves against leakage and prolonged exposure to wetness.
It comes with a thin yet super absorbent soaker that provides effective fluid containment.
These adult incontinence bed pads feature a fiber padding that can absorb up to 6 cups of fluids.
It features a heavyweight barrier to help protect bed linens, avoiding numerous changes of bed sheets.
Each reusable urine pad boasts a belted construction that allows itself to lie flat with no bunching.
These durable, easy-to-launder reusable bed chucks perform with outstanding resiliency even after numerous washes.
Pros
Absorbs quickly.
Soft top sheet.
Non-slip & waterproof backing.
Generously-sized.
Cons
Does not hold as much liquid as advertised.
Check Price at Amazon

10. Somata Premium Bed Pad
Somata incontinence underpads are designed to be absorbent and inconspicuous at the same time.
These cotton incontinence pads from Somata lock in moisture, protecting the sheets and sensitive skin from wetness.
It is made of certified non-toxic and hypoallergenic, BPA-free, and free of any harmful chemicals, making it safe to use for everyone, including babies.
Each washable waterproof pads won't bunch up or even create an uneven bed surface; the bottom layer is non-slip and quiet and not made of PVC or crinkly plastic.
It comes in a generously-sized design that provides comprehensive coverage for sleepers who often shift positions at night.
Given the fact that these bed pads are reusable and washable, it can be washed up to 300 washes without changing its quality.
Pros
Durable.
Soft and comfortable.
Absorbent & noiseless.
Made of non-toxic and hypoallergenic materials.
BPA-free.
Non-slip.
Large surface design.
Cons
Not non-slip as advertised.
Check Price at Amazon

Sale
Excellent Cloth Incontinence Pads For Beds
Our Pick
Out winner for the best waterproof incontinence pads for beds is the Priva Sheet & Mattress Protector. These bed pads are made of soft, breathable, and comfortable materials, features 4 layers of protection to avoid leakage, certified by a third-party laboratory, and it is generously sized to accommodate all sizes of people.
Buying the best reusable pads for incontinence in the market is confusing and overwhelming. You need to take it seriously to avoid develop skin discomforts including bedsore. To ensure that you are getting an underpad that has an excellent quality, make sure to come up with the things or features to consider.
Hopefully, we helped you picked the best one when it comes to underpads for incontinence.

Key References
"Urinary incontinence – Symptoms and causes – Mayo Clinic". Accessed October 13, 2019. Link.
"What is incontinence? · The facts · Continence Foundation of Australia". Accessed October 13, 2019. Link.