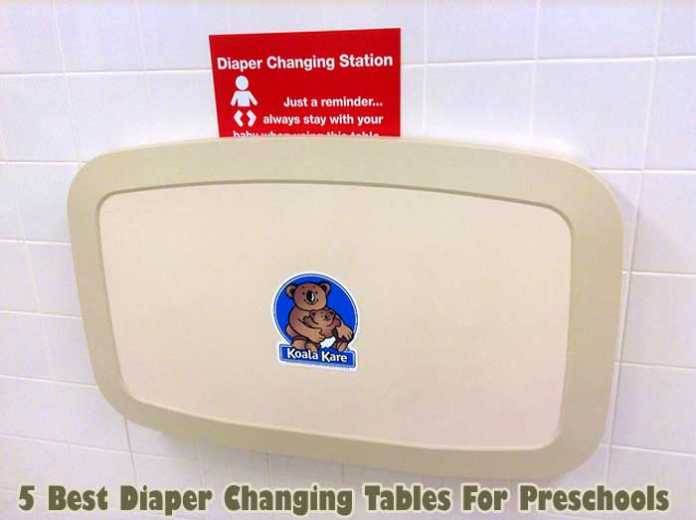 It is essential to have at least one diaper changing table in your preschool as this helps to keep other areas tidy. They help to provide a safe place for the baby to lie and the height of the changing station is more comfortable on the back than having to hunch over a baby on the couch or floor.
Best Diaper Changing Station For Daycare
Our Pick
Our best pick Koala Kare KB200-01 Horizontal Wall Mounted Baby Changing Station. This is ideal for preschool/daycare setup. This wall-mounted changing station supports up to 200 lbs weight and compliant with ASTM and EN safety standards.
Apart from this, when there is a mess while changing their diapers, it is usually easier to clean up with a changing table.
There are many commercial baby changing stations in the market. This guide will help you to choose the best diaper changing table for your preschool or childcare.
Color Options
Cream, Grey, Earth, or White Granite
What to Look for in a Diaper Changing Table for Daycare?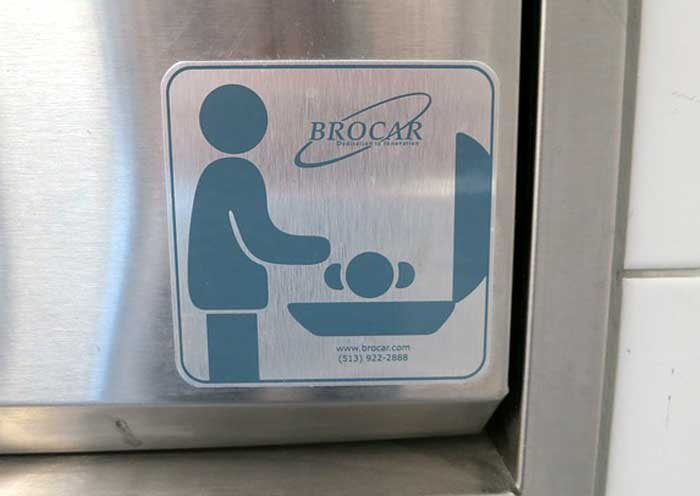 Here are the aspects that we should look for when choosing the daycare changing tables.
Safety: The diaper changing station should be sturdy and coated with non-toxic materials. An ideal daycare changing table should be well designed, practical, and attractive. A safety strap to put around the baby while their diaper is being changed can be a good addition too. Also, they should be easy to clean with a non-skid bottom. The changing table for daycare center should be complaint with ASTM and ADA standards.

Storage Options: A commercial baby changing station for preschool should have easy access to supplies while you are changing a baby's diaper. They should be reasonably easy to assemble and the necessary toolbox. It is important to note the height also in order to be sure they would be comfortable to use.

Space: Your choice of diaper changing table should be based on the size of your preschool. You should consider if a changing table with a crib combination would be ideal for the space you have in your preschool or if a changing station that can fit in a corner is a better option. The daycare changing tables with wheels can also be helpful if you have limited space. Also considering the space aspect, wall mounted changing tables could be the best option.

Versatility: Some commercial changing tables offer other options apart from changing station, there are some that can be converted into a toddler's bed/cot, those with shelves which can serve as bookcases, and those that the top can be removed to become a changing dresser. You should go with the one that can maximize the space you have.

Best Diaper Changing Tables For Preschools
1. Horizontal Fold Down Commercial Baby Changing Diaper Station
The first diaper changing table we recommend is horizontal fold-down commercial baby changing table or diaper station.
Features:
This diaper changing station is easy to mount. The easy installation makes it ideal for preschool and daycare centers.
The changing area of this changing table for daycare is designed with a smooth and concave design.
This commercial baby changing table also comes with a safety strap made from nylon included that facilitates a side-quick release.
There are two built-in paper liners in this unit as well and a bag hook that ensures your personal items are secured and for convenience while changing.
ECR4Kids diaper changing station is very easy to clean, so there should be no problem with keeping it properly maintained.
This preschool changing table works well for children between 6 months to 3 years. If you have older children in your preschool, this may not be suitable for them as it is quite narrow and small.
Pros
This diaper changing station can be wall mounted.
Includes two built-in paper liner dispenses.
Smooth and comfortable concave changing area.
Easy to install.
Cons
No installation hardware included.
Changing pad is narrow.
Check Price at Amazon

2. Horizontal Wall-Mounted Baby Changing Station
The next diaper changing table for preschool is the horizontal wall-mounted diaper changing station.
Features:
When it comes to durability, you can count on this baby changing station. This diaper changing station is made from a premium quality injection molded polypropylene material.
The KB200-01 has two hooks that can be used to secure your bag and other items.
It also features a safety strap that is quite sturdy, and it works to prevent the baby from moving around while you are changing their diaper.
Another feature that sets this diaper changing station from the rest is the liner dispenser and the concave design. This innovative design helps to give comfort to the baby and peace of mind to the preschool admin.
This commercial diaper changing station is capable of supporting babies weighing up to 200 lbs. So, this toddler changing table is most ideal for preschoolers between 3 and 5.
The surface of this changing area has antimicrobial protection that helps to inhibit the growth of bacteria. The antimicrobial property helps to keep this changing table cleaner between cleanings.
This best baby changing station (KB200-01) is no doubt of good quality.
Pros
Two liner dispensers.
A Bobrick keyed lock that serves to reduce potential vandalism and to keep the hardware secure.
Durable.
Easy to install and clean.
Check Price at Amazon

3. Vertical Wall Mounted Baby Changing Station
The next diaper changing table is vertical-mounted which should be ideal and effective for daycare or preschool facilities with limited space.
Features:
This diaper changing station comes with a vertical design and can be mounted on the wall. The vertical design allows you to save more space in your preschool.
It has some safety features such as liner dispenser, hooks for your bag, and other necessities, as well as a strap to prevent the baby from falling off.
Also, there is an antimicrobial substance that has been infused to the changing surface. This antimicrobial surface coating makes the area easier to clean.
This unit is quick and simple to mount. The reinforced steel-on-steel hinge mechanism allows for more comfort during the changing process.
The smooth concave changing area makes it safe and comfortable for children of up to 200 lbs.
Pros
There is no assembly required hence it is easy to use.
Offers the highest level of style and safety.
ASTM and EN compliant.
Supports up to 200 pounds.
Cons
It does not lay flatly which means there is a bit of an angle to this changing station.
Check Price at Amazon

4. Fold Down Baby Changing Diaper Station – Horizontal Wall-Mounted
The next best diaper changing station is horizontal wall-mounted.
Features:
Alpine industries are known for their high-quality products and space-saving designs.
This commercial baby changing table is a modern, durable, and easy to clean. This slick design makes them an ideal product for any preschool facility.
This wall mounted baby changing table is designed in a way that you can have easy access to diaper bags and other changing necessities.
This wall mounted diaper changing station helps to promote a hygienic and a more secure changing experience for preschool admins.
The two liner dispensers that are included with this unit can hold about 100 film liners. This sturdy design helps to protect the baby while you are changing the diapers.
This diaper changing station is made of high-density polypropylene. The sturdy design makes it a durable product, and it can hold babies up to 220 lbs. So this changing table is also suitable for special needs children.
The Alpine changing station comes with a safety belt that helps to hold the baby securely in place.
With this diaper changing station, both preschool admins and children are sure to experience a safe and pleasant experience.
Pros
High-quality construction.
This wall mounted baby changing table meets global safety standards for enhanced child protection.
Easy to mount.
Durable and hygienic.
Supports up to 220 lbs.
Cons
Installation can be challenging but should be easier for a professional handyman.
Check Price at Amazon

5. Impact 1170 Gray Diaper Changing Table
The last but not the least diaper changing table in this list is Impact 1170 gray diaper changing table for preschool.
Features:
The Impact 1170 diaper station has a plastic body which makes it durable and easy to clean.
This preschool changing table has smooth and hidden hinges that ensure there is no unintended pinching when opening and closing it.
The smooth hinges make it safe for children as you will not have to hurt them especially when you are in a hurry and do not see the hinges.
This wall mounted diaper changing station has met the ASTM and ADA standards for accessibility and performance.
Also, it has nylon safety straps that ensure the safety of your baby, which makes them ideal for application in preschool environments.
The impact 1170 diaper station is available in chic and contemporary looking gray color.
This standard baby changing table is capable of supporting a baby of up to 100 lbs in weight.
Pros
Easy to install and very sturdy.
Horizontally wall-mounted diaper changing station.
Smooth and concave changing area.
Supports up to 100 lbs.
Cons
Hardware to mount this commercial changing table is not included.
Check Price at Amazon

Changing diapers in a preschool does not have to be a difficult task. With these well-made and durable diaper changing stations you can worry less about diaper changes.

References
"Chapter 1: Using the ADA Standards – United States Access Board". Accessed November 14, 2018. Link.
Image Credit Flickr Creative Commons – Mike Mozart