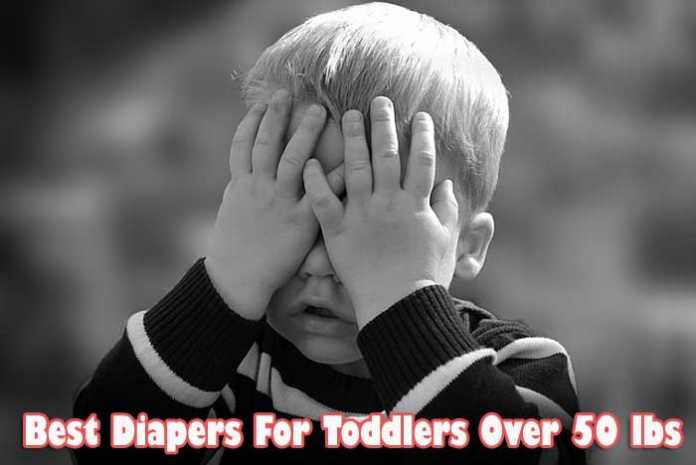 Finding the best diapers for toddlers over 50 lbs can sometimes be like looking for a needle in a haystack. These kids have different needs as it relates to daytime training and bedwetting. It is common to see diapers go up to 35 lbs but there are also diapers for bigger kids.
We ♥ honesty! Diaper News earns a commission through the following hand-picked links at no extra cost to you.
Based on a toddler's needs and shape, a bigger size of the diaper may be needed and there are a lot of brands that sell them.
Preview
Our Pick
Best Feature
5-layer snap in microfleece insert
A generous & adjustable microfiber insert
Preview
Best Feature
5-layer snap in microfleece insert
Our Pick
Preview
Best Feature
A generous & adjustable microfiber insert
Preview
Apart from this, these brands are great for children with special needs, children waiting for potty training to finish and those still bedwetting.
It is impossible to know from simply glancing at the package how a brand compares to another in terms of fit, comfort, and absorbency, or whether or not a costlier diaper is worth the price.
This post is aimed at sparing you this guesswork to help you in the decision-making process so that you can make an informed buying decision you and your child can live with.
We have selected some reusable cloth diapers this category of kids, you might think that in this age of speed and convenience cloth diapers would have gone the black and white TV way but a lot of moms still use them for several reasons.
They are reusable and machine washable and also great for the environment and your budget. Here is a list of some of the best cloth diapers for toddlers over 50 lbs.
What to Look for Toddlers Over 50 lbs?
Absorbency is the most important trait to consider when buying a cloth diaper.
Absorbency covers how much a cloth diaper can hold, how well the liquid wicks away from your kid and distributes throughout the core of the diaper, and how well the liquid wicks away from the skin of your kid.
A cloth diaper with a poor absorption can expose the skin of your kid to persistent dampness, this can cause a rash.

Diapers are usually sized by the weight of your child, however, just like clothes fit between cloth diapers brands differ considerably.
A lot of cloth diapers are designed to ensure a leak-free fit by providing a double elastic sealing edge with one just along the core of the absorbent and the other along the outer shell of the diaper.
Finding a cloth diaper with the perfect fit for your toddler involves some trial and error.
This is why you need to try a handful of brands to find the diaper that fits your child best. It is advisable not to buy in bulk until that time you find your big kid the perfect fit.

A comfortable cloth diaper is not one with the perfect fit or a stellar absorbency alone but the materials must also feel soft on the kid's skin.
It should have secure tabs and soft or rounded corners. Also, the seams and edges need to feel seamless to avoid chafing.

Best Diapers for Toddlers Over 50 lbs
Based on our research, here the best diapers for kids over 50 lbs.
1. Happy Endings Big Kid Pull on Reusable Cloth Diapers (45-65 lbs)
Happy Endings is one of the highest quality brands when it comes to reusable cloth diapers.
They are well made and comfortable for big kids between 45 to 65 lbs; when they are compared with other cloth diapers it is obvious that Happy Endings are made more of durable materials and better construction.
They are made of stretchable fabric that helps to give your kids a custom fit.
The construction is very durable with a non-pulling inner liner, strong seams and strong snaps that cannot be easily pulled loose by your toddlers. If you are looking for high-quality cloth diapers that will last through toddlerhood and even for future kids, the Happy Ending cloth diaper is worth the money.
It features wide and soft elastic in front and at the back which makes for easy pull on and off action just like real underwear. This cloth diaper offers a highly absorbent leak protection thanks to its 5-layer snap in microfleece insert. You do not need to use any diaper cover with this because its PUL outer layer is breathable and water resistant.
Pros
Easy for parents and kids.
Comfortable.
Very durable construction.
Cons
Inner snaps might rub against child's skin.
Check Price at Amazon

2. Large Nageuret Reusable Swim Diapers (20-55 lbs)
Swim diapers are basically the same as reusable cloth diapers; the only difference is that these are better suited for swimming.
For your big kids who like the water, you can buy just one of this and reuse it until your kid outgrows it or it gets eaten by your dog, whichever comes first.
The Nageuret reusable swim diaper is soft, light in weight, and fashionable.
They can fit from 20 to 55 lbs approximately and comes with a generous, adjustable microfiber insert. This swim diaper is waterproof and also has a mesh lining on the inside; this mesh lining is a soft material and not like the one that can be found in some swim trunks.
It features snaps around it so you can adjust it to fit your big kid perfectly. The Nageuret swim diapers are very easy to clean as they are designed with tear away sides for easy removal after use.
Pros
Easy to wipe and clean
Versatile
Waterproof and stylish
Durable
Check Price at Amazon

3. Happy Endings Toddler Cloth Diapers (45-65 lbs)
The Happy Endings cloth diaper is fully adjustable and super absorbent.
The waterproof layer stops leaks making this diaper ideal for young and old dealing with urinary stress, incontinence, and the large size makes this diaper ideal for your big kids. The diaper cover is adjustable with snaps to adjust the waist so as to fit your big kids.
The diapers come with the standard three by three rise system meaning you can adjust the size of the diaper to achieve the best fit possible.
Each cloth diaper set includes one cloth diaper cover which is two layers of waterproof PUL or polyurethane laminate throughout with an extra layer of PUL in the front.
The Happy endings reusable cloth diaper is comfortable due to its various sizes. It is equipped with wide and soft elastic in the back which does not dig into the skin, double leg gussets provide added leak protection around the legs, and the PUL is a very soft breathable material which is not noisy compared to other cloth diapers on the market.
The new inserts are much longer and due to their contoured design offer more coverage and absorbency. The two snaps secure the insert into the diaper cover to prevent shifting.
The pre-fold insert is made of a very dense bamboo cotton blend that is naturally antifungal and antimicrobial. It is very trim yet it is superior at absorbing large amounts of moisture and it is a great addition to boost absorbency when you need it most.
Pros
Easy to care for
Super absorbent, soft, and durable
Excellent leak protection
Cons
Mastering the different folds may seem daunting to some parents.
Can take a long time to dry.
Check Price at Amazon

4. Happy Endings Kid Pull on Reusable Cloth Diapers (35-50 lbs)
This cloth diaper is extremely easy to use making it a great choice for larger kids.
This cloth diaper goes from 35 to 50 lbs and its absorbency system is designed for older and larger children.
The outside cover of this cloth diaper is breathable and waterproof, making them very comfortable for your kids. It has a soft fabric over the leg gussets to prevent red marks and chafing.
A few sets of these will be enough to last through toddlerhood and when you buy in bulk you are only spending about half as much compared to buying individual cloth diapers.
They can sit high on the tummy of your kids with lots of elastic so you can either roll them down for a gentle fit or turn them down slightly if your kid's belly is larger.
Pros
Easy to use.
Incredibly soft and stylish.
Great at containing leaks and blowouts.
Cons
Can take a long time to dry.
Check Price at Amazon

Choosing a diaper for toddlers over 50 lbs can be daunting; the inability of a parent to try them all and the sheer number of diaper brands available can leave a mom frustrated and confused.
We recommend that absorbency be your top priority when shopping for a diaper for your big kids and the rest will follow.