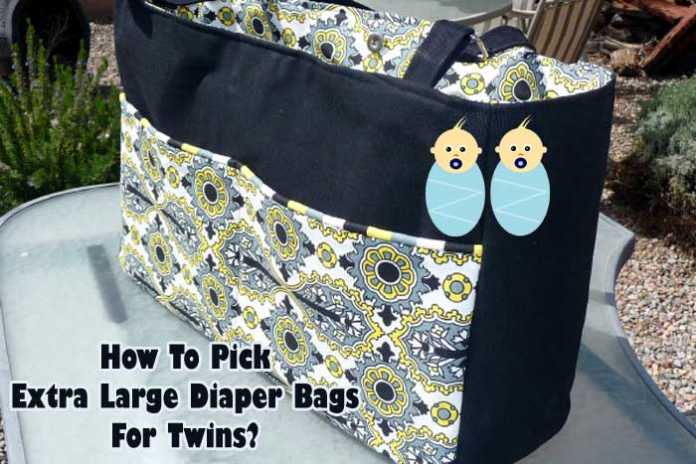 A diaper bag can prove to be a real lifesaver when you are on the go with your twins. A bag that allows you to carry all your essential items conveniently can make going out with your babies less stressful.
Best Extra Large Diaper Bags for Twins
Our PickOur top pick is Filberry Backpack Diaper Bag Set and it is designed for parents with twins. This extra large diaper bag addresses all pain points while carrying the twins. It is versatile and comes with 2 backpacks (large & small) for the price of one!
We ♥ honesty! Diaper News earns a commission through the following hand-picked links at no extra cost to you.
There are lots of things to consider when you want to take your twins out whether to a store or to head out on vacation.
A high-quality diaper bag that is equipped with all the essentials can make your trips go a lot more smoothly.
In this guide, we have reviewed several best backpack diaper bag for twins and hopefully, it will help you to choose the best diaper bag!
What to Look for When Buying Diaper Bags for Twins?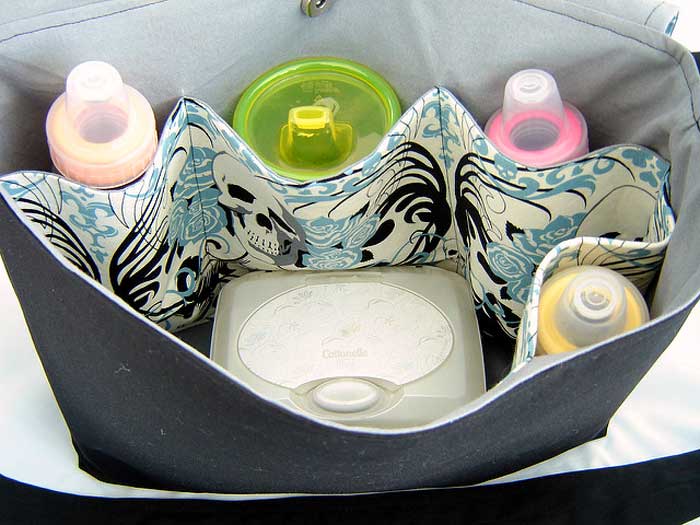 Some basic things need to be considered when you are shopping for diaper bags for your twins. You should be able to find a high-quality diaper bag for you and your babies' essentials by comparing all your options very carefully. Here are some things to look out for when buying diaper bags for twins.
Hands-Free Design: Twin babies can be a handful; this is why you need a bag that will help to free your hand so you can conveniently carry your loved ones. You should go for a bag that stays securely strapped to your body even when you are not holding it. For example, a messenger style diaper bag or a backpack style bag fits this description perfectly. They can help to keep your hand free, and they also stay securely in a place. They can also help to reduce the amount of strain on your shoulders and neck.

Easy to Clean: Babies can be messy, so your bag is very likely to experience spills or accidents at one time or another. The diaper bag you should buy must have a design that is easy to wipe clean. Avoid as much as you can diaper bag with light colored fabrics that are likely to show stains. A bag with darker fabrics that can help to camouflage any discoloration or stains is ideal.

Storage Options: Choose a diaper bag with lots of internal and external pockets that will help you to stay organized. Plenty of pockets are essential because there are different items that you need to carry, such as diapers, bottles, pacifiers, toys, snacks, smartphones, and sunglasses. By buying a bag with lots of space, there will be enough room for everything you need to stay organized.

Type of Closures: The way the closure of a bag is designed dictates largely how secure your items are and how easy to use them. Most moms prefer bags with zippers because they help to keep everything stored securely. Also, the pockets should have closure too to keep your items from falling out. The downside to zippers is that two hands may be needed to open it. You can go with those bags with magnetic closure that can be easily operated by hand.

Extra Features: A lot of diaper bags made today incorporate other amazing features that are designed to make life easier for twin parents on the go. For example, there are diaper bags that have thermally lined pockets and changing pads.

Price: It is a good idea not to spend more than you need to on diaper bags. There are very affordable diaper bags and the ultra expensive ones. In most cases the affordable diaper bags can give you everything that you need so you don't need to spend a fortune on buying one. Buying a top of the line bag doesn't always translate to a better product. By reading through customer's reviews, you can actually find a good quality bag at an affordable price.

Top 5 Extra Large Diaper Bags For Twins Reviewed
Here are the best extra large diaper bags for twins in the market today:
1. Diaper Backpack by Bliss
The Bliss diaper backpack for twins is a functional and stylish bag.
This twin baby diaper bag has up to 20 different pockets and compartments which can help you to be super organized.
Four of these pockets are insulated.
It has a side pocket that can be used to dispense wipes.
This best diaper backpack for twins has enough space to take all your twins essentials as well as your personal items.
This backpack is made with durable, waterproof, and high quality material.
It is very comfortable to carry.
It comes with stroller attachment so you can keep your items close by while pushing your twins in a stroller.
Pros
Durable construction.
Wipe dispenser.
20 compartments.
4 insulated pockets.
Cons
1 year warranty.
Not many color options.
Check Price at Amazon

2. Filberry Backpack Diaper Bag Set – Large & Small Backpacks
This backpack diaper bag for twins is designed by parents who understand the difficulties that come with caring for twins.
It is very versatile and you get 2 backpacks for the price of one.
You can zip the two backpacks together to create more space for your items.
This best diaper bag for twins is made with non-odor fabric, strong easy glide zippers, and durable non-stitching materials.
The shoulder straps and back panel are padded so it is very comfortable to carry.
It has up to 17 pockets in all help you keep everything organized.
This best diaper bags for twins has wet wipes pocket, insulated bottle pockets, waterproof pockets, and enough space for your laptop or iPad.
It also comes with a sturdy strap, changing pad, and a separate insulated bottle bag.
Pros
Padded back panel and straps.
Lifetime guarantee.
Plenty of space.
Cons
Bit expensive for some parents however, all pros make this bag a clear choice!
Check Price at Amazon

3. NimNik Baby Premium Diaper Tote Bag
This big diaper bag is not just stylish but can also be converted into a messenger or shoulder bag.
It comes with a changing mat and a wet bag purse.
The fabric doesn't feel cheap and it comes with a lifetime warranty.
It has a double thick base that ensures it stands upright even if it isn't packed full.
This best baby bag for twins has lots of mesh and interior pockets that help you stay organized.
It is waterproof materials helps to prevent spills and stains.
This diaper bag is very easy to clean.
It has lots of space to hold all of your twin's essentials.
This bag's handles and zippers are very sturdy.
It is lightweight and comfortable to carry.
This big diaper bag for twins has large shoulder straps that help to receive the pressure.
Pros
Lightweight.
Durable.
Lifetime warranty.
Large shoulder straps.
Spacious.
Cons
Little pocket does not have any zippers.
Check Price at Amazon

4. Anuant Baby Backpack Diaper Bag
This backpack is a smart choice for moms with twins.
It has lots of pockets where you can keep all your items so as to stay organized.
This extra large diaper bag can be worn over the shoulder and it can be clipped in a stroller.
There are lots of zippers in this bag that ensures the safety of your items while also giving you easy access.
It is made with waterproof fabric that is very easy to clean off.
This backpack pockets are insulated.
It also has a sunglasses holder on the shoulder strap where sunglasses can be safely kept.
The compartments are spacious and it has plenty of pockets to help you to stay organized.
It has adjustable straps for a comfy fit.
A changing pad is included with this backpack for convenient and quick sanitary changes.
Pros
Unisex design.
Machine washable.
Value for money.
Extra roomy.
Lightweight and sturdy.
Check Price at Amazon

5. Large Diaper Bag Backpack by Avocado Kids
This extra large diaper bag is multi-functional yet stylish.
It is made with water resistant fabric that is very easy to wipe clean.
The shoulder straps are extra padded with reinforced stitching.
This big diaper bags for twins has 14 pockets including two extra large insulated pockets.
This backpack comes with stroller straps and trolley sleeve.
Pros
2 extra large insulated pockets.
Multifunctional and versatile.
Comfortable to carry.
Cons
Pockets for a phone is a bit small.
Check Price at Amazon

Best Diaper Backpack For Twins
Best Choice
Our top recommendation for the extra large diaper bag for twins is Filberry Backpack Diaper Bag Set and it is designed specifically for parents with twins. This extra large diaper bag satisfies all key issues while carrying the twins. This versatile baby bag for twins comes with a large backpack and a small backpack for the price of one!
There are lots of diaper bags on the market but only a few of them can be of help with your twins. The products reviewed above is a good starting point for moms as they can help you to save time and even some money.

Images Credit Flickr Creative Commons: Robyn Vines Smith and Janet