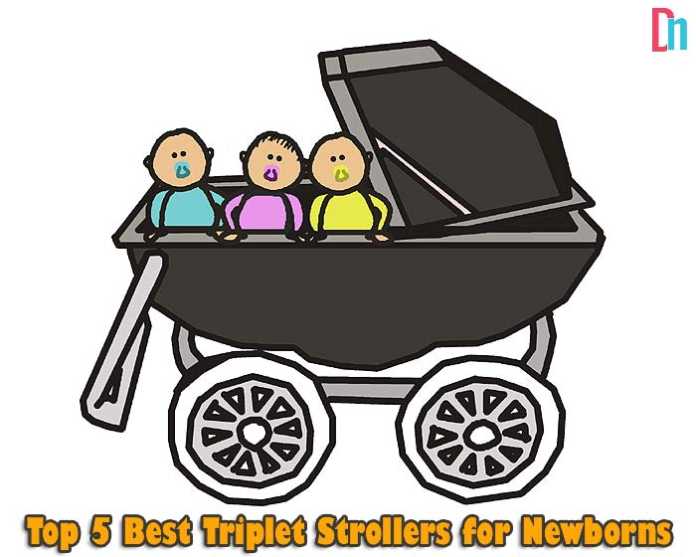 Best Triplet Stroller for Newborns: Triplets are adorable but taking a walk with them can be overwhelming. As if the job of raising these 3 kids isn't tough enough you will soon discover that the options available for a triplet stroller are limited.
Best Triplet Stroller for Newborns
Best Choice
Our top pick for the best triplet stroller for newborns is the Foundations Worldwide LX3 stroller. It has a total weight capacity of 150 pounds; it is easy to push around, and it has a large storage area.
There are many brands of strollers for triplets on the market today. In this guide, we have put together a list of the best triplet stroller for newborns to help you narrow your search.
Best Triplet Stroller for Newborns Comparison Table
Preview
Best Choice
Title
Child Craft Sport Multi-Child Triple Stroller, Regatta Blue
Foundations Worldwide Foundations Regette Blue 3 Passenger Stroller, LX3
Valco Baby Tri Mode Duo X All Terrain Double Stroller (Night)
Foundations Trio Sport Tandem Stroller
Joovy Big Caboose Graphite Stand On Triple Stroller, Black
Preview
Title
Child Craft Sport Multi-Child Triple Stroller, Regatta Blue
Best Choice
Preview
Title
Foundations Worldwide Foundations Regette Blue 3 Passenger Stroller, LX3
Preview
Title
Valco Baby Tri Mode Duo X All Terrain Double Stroller (Night)
Preview
Title
Foundations Trio Sport Tandem Stroller
What to Look for in triplet strollers for newborns?
The best triplet strollers for newborns should have balanced wheels that make maneuvering and turning seamless. The following are other features you should look out for.
The handlebar should be comfortable and balanced to grip for an extended period without causing any harm to the palm.
The canopy is especially important to protect your kids from harsh weather.
The 5-point harness feature is essential because the safety of your kids is paramount.
Handbrakes and foot brakes are features you should look out for in a triplets stroller if you do downhill stroll with your kids.
Footrests give your kids more comfort while also helping them to relax.
The storage compartments are the perfect place for parents to place some essential items, so their hands are free to hold on to the handlebar.

Primarily, triple strollers are of two types: the side-by-side type and the in-line or tandem type.
The side-by-side triplet strollers will take up more space beside you while the tandem strollers will take up more space in front of you. The model you go for will largely depend on your kids and your preference.
Reclining a seat when your kids need a nap is more comfortable in a side-by-side type, but the tandem type is more accessible to maneuver especially in a busy area.
Most triplet strollers are made with aluminum alloy or steel. They are usually built to be sturdy because they have to accommodate more than one child at a time. Also, their average weight is between 40 and 60 pounds.
Triplet strollers may not be easy to move around, but you are sure the stroller would not give way under the weight of your newborns. Some models have removable seats so let your circumstance and priority guide you in the selection process.
Some triplet strollers are made to be compact than others especially when they are folded although this does not alter the fact that they will always occupy more space than a standalone stroller.

Performance and Ease of Use
The purpose of a triplet stroller is to assist you, and your kids move around and as reasonably fast as possible.
A triplet infant stroller usually achieves this with the smooth motion and sturdy tires as well as a good swivel front system for maneuvering.
The brakes allow you to bring the stroller to a quick stop with no hassles every time you wish to as they help to lock the stroller in place when engaged.
Additionally, the handlebars give you a firm grip and make pulling or pushing easy. It is essential to find those models that can collapse quickly and are compact when collapsed if you want to drive to the destination you will need the stroller.
This is because you will need this to fit in your car trunk comfortably. You should also choose a product that is relatively lightweight because you don't want to be out of breath every time you have to carry it.
Collapsing or setting up a triplet stroller does not require professional expertise. You can get through it by following instructions, and it becomes almost effortless with prolonged use.
Cleaning and maintenance of the triplet stroller are also necessary, and it will be in your favor to go for a model with easy to clean fabric.

If you think of the multiple benefits wrapped in a triplet stroller, then you will understand why the price of this product seems to be on the high side.
Beyond brand differences, the materials used for weight capacity and construction account for the differences in cost.
A product that caters for 3 kids at the same time is an investment in quality, durability, and comfort.
A cheap product may come close but won't satisfy you in all the critical aspects.

Review of the Best Triplet Strollers for Newborns
1. Child Craft Sport Multi Child Triple Stroller
The first triplet stroller for newborns a durable option with heavy duty tires that absorb shock and are easy to maneuver.
This triplet stroller perfectly combines strength and mobility in one product.
Each set has a 40 pounds capacity.
The ergonomic handlebars help with maneuvering your kids with ease.
The canopies on this stroller help to protect your kids from ultraviolet rays and lousy weather.
This triple stroller has heavy-duty rubberized tires that act as shock absorbers and help to provide a smooth and comfortable ride.
This triple baby stroller is easy to fold, and it can fit into most car trunks with no hassle.
It features a safe brake system that ensures your kids are secure.
Pros
Shock resistant and heavy-duty tires.
40 pounds capacity per seat.
Individual canopies for bad weather and sun.
Cons
It can be a bit hard to push when fully loaded.
Check Price at Amazon

2. Foundations Worldwide LX3 Stroller
The next 3 passenger stroller for triplets is a heavy-duty triple stroller that can hold three kids are weighing up to 50 pounds each.
The SafeBreak system feature in the LX3 engages as soon as the person steering the stroller is separated from it to minimize the risk of accidents.
This best triplet stroller features a ComfortPush system that disengages the brakes whenever a forward pressure is applied on the handlebar.
The LX3 sports the largest wheels in this product range.
This triplet baby stroller provides extra maneuverability, and the stroller can go over bumps with ease.
The LX3 is made from hard wearing easy to clean fabrics that ensure longevity.
This triplets baby stroller has an extra large canopy that shields your kids from harmful UV sun rays.
This triple stroller has a large storage area that can accommodate all your kids' essential supplies.
Although this stroller looks vast, it is only 22. 5 inches wide, and it can go through most doors.
The shoe-less braking components in the LX3 are very efficient and do not need frequent replacements.
Pros
Fairly affordable.
Large storage area.
Easy to push and steer.
Very strong and safe.
Cons
This baby triple stroller may not fit in the trunks of smaller cars.
Check Price at Amazon

3. Valco Baby Tri Mode Twin EX
This triplette stroller is an all-terrain double stroller you can easily convert to a triple stroller by adding a toddler seat.
It is less than 29 inches wide, so it is easy to navigate it through narrow doorways and crowded sidewalks.
This three seat stroller has an adjustable handlebar and footrests which ensure you and your 3 kids are comfortable.
This triplets baby stroller is made from eco-friendly materials, and it leaves a smaller carbon footprint.
This triple stroller has 10-inch air tires that enable it to go over uneven pathways with ease.
Pros
The seats are big and comfortable.
Very easy to fold.
This baby stroller for triplets comes with rain covers and head huggers.
The canopies are extendable.
Check Price at Amazon

4. Foundations Trio Sport Tandem Stroller
This triplet stroller is a popular option among parents and babysitters as it does the job well without hurting your wallet.
This stroller can accommodate children of up to 40 pounds each.
This best triple stroller is designed to go through standard doorways with no hassle.
You can set the seat in the recline or upright position depending on you and your children preferences.
The stroller is easy to fold, and you can load it in the trunk of most family cars.
Each of the seats in this stroller comes with an individual canopy.
Pros
Designed to go through standard doorways.
Each seat comes with individual canopy.
Easy on the wallet.
Cons
The stroller may be difficult to maneuver as it quite long (about 4 feet in length).
Check Price at Amazon

5. Joovy Big Caboose Stand-on Triple Stroller
The last triplet stroller for a newborn has a payload of about 125 pounds, and yet it is foldable, and it weighs just 32. 3 pounds.
The seats are large, and each has an adjustable footrest.
It has a 5-point harness system, recline adjustment, food trays, and removable hoods.
The universal car seat adapters in the front seat can save you from trouble even a bit of cash.
It has a large basket below the seats where you can keep your kids' supplies.
It is lightweight, and you can easily haul it in and out of your car with little effort.
It has a narrow design that makes it easy to steer through corridors, doorways, and so on.
All the wheels on this stroller have sealed bearings that make maneuvering it easy.
It is comfortable to ride thanks to its wheel suspension.
Pros
Flexible assembly.
Lightweight design.
Easy to fold.
Large storage basket.
Cons
It is fairly compact, but it doesn't fold completely flat.
Check Price at Amazon

Having a triplet stroller is an excellent way for parents with triplets to get out and about. Although there are few selections to choose from, it is important to purchase the one that best suits your needs and family lifestyle.

References
"Strollers and Carriages | CPSC.gov". Accessed February 26, 2019. Link.