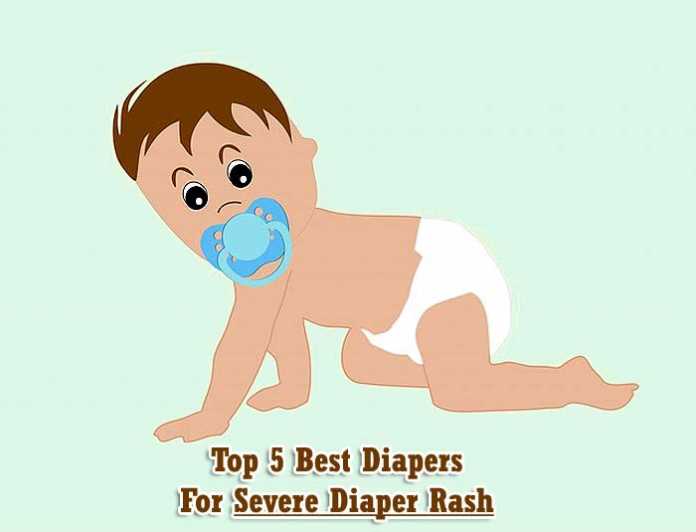 Best Diapers for Severe Diaper Rash: There is nothing worse than seeing your baby in pain and as parents the feeling of guilt that accompanies this makes it even worse. Changing diapers isn't always pleasant, but a red bottom can also make it worse.
Best Diaper for Severe Diaper Rash
Our Pick
Our top pick is the Seventh Generation Free and Clear diapers. They are breathable, absorbent, and they provide a comfortable fit. They are biodegradable, and they are free from dyes, chlorine bleach, and perfumes. For parents out there looking for a balance between price and quality, this product is a perfect choice as it is relatively inexpensive.
We ♥ honesty! Diaper News earns a commission through the following hand-picked links at no extra cost to you.
Diaper rashes among babies between 4 and 15 months is a common thing according to the American Academy of Pediatrics (AAP) that estimates over 50% of these babies will at every 2 months experience a diaper rash.
Many times, a mild rash is easily manageable, but more attention is required for the severe one. Therefore, it is important to choose a diaper that will give you and your baby maximum comfort.
Best Diapers for Severe Diaper Rash Comparison Table
What to look for in diapers for severe diaper rash?
A) Disposable vs. Cloth Diapers
There is no concrete evidence that cloth diapers are better than the disposable ones for severe diaper rash.
If you are thinking of switching from cloth to disposable to help your baby prevent diaper rashes, you should think through it carefully.
Although cloth diapers are better than disposables regarding cost and they are being Eco-friendly, there is no way one can say which is best regarding severe rashes.
Cloth diapers have lesser chemicals than disposable diapers, and this can help in diaper rash prevention.
If the detergents you used to wash your cloth diapers is hurting your baby's body, you can go for natural disposable diapers that are aimed at babies with sensitive skin.

Diapers with breathable materials have profound effects on diaper rashes.
According to a study, the chances of a candida infection decreases by 38 to 50% when you use a breathable disposable diaper.
Also, the diaper should feel soft to the touch. A breathable diaper will help to prevent moisture build-up that can cause diaper rashes later.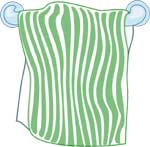 The best diaper for severe diaper rash should be absorbent enough to quickly wick away pee and stay dry for a long time. This is important because the presence of moisture in your baby's diaper can irritate your baby's skin, causing diaper rash.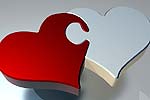 Choose a diaper that is stretchable and has leg cuffs for smooth movement of your baby with the diapers.
It should perfectly fit your baby, and it should not be too tight so as not to cause friction and irritation.
The chances of leakage are higher if the diaper is not your baby's perfect size, so ensure you buy the right size of diapers for your baby.

Top 5 Best Diapers for Severe Diaper Rash
1. Seventh Generation Free & Clear Baby Diapers (Recommended)
The first diaper brand for severe diaper rash is from Seventh Generation, and these are Eco-friendly diapers that don't have perfumes, dyes, chlorine bleach in them.
They are ultra absorbent and truly hypoallergenic making them ideal for babies with severe diaper rash.
The diapers' core is made with sustainably sourced wood pulp.
The high capacity ultra-absorbent core helps to keep your baby's skin dry and protected.
It has a special quilted liner that is super soft, and it is made from unbleached cotton.
There are adjustable tabs and stretchable side panels on each diaper so they can fit most babies.
The double leg cuffs in this diaper help to prevent leaks.
This is box title
It fits comfortably.
They are unisex.
It comes in fun designs.
Eco-friendly and relatively inexpensive.
Cons
No wetness indicator so it is hard to tell when your baby's diaper is wet.
Check Price at Amazon

2. Bambo Nature Premium Baby Diapers
The next diapers are from Bambo Nature. They are skin friendly, and they are perfect for severe diaper rash.
They can compete with a lot of traditional diapers as they are very absorbent which is not familiar with most green diapers.
These diapers come in different sizes so they can accommodate babies from newborn to toddler.
Both boys and girls can wear them.
They absorb well, and you can use them both during the day and night.
They are formulated specially to ensure your baby won't get a diaper rash or any other kind of skin allergy.
Pros
Very soft and absorbent.
Ideal for both day and night.
Available in different sizes.
Cons
You have to pay a premium for this.
Check Price at Amazon

3. The Honest Company Disposable Baby Diapers
The Honest Company disposable baby diapers are available in a wide variety of colorful patterns and fragrance-free.
They are also chlorine, lotion, and latex free.
This product is hypoallergenic, and it is made with sustainable materials.
It has naturally derived odor blocks that help to minimize diaper stink.
The refastenable tabs, secure fitting cuffs, and stretchy side panels help to prevent leaks and blowouts.
They are available in 8 different sizes.
They are thinner than most disposable diapers which make them less bulky.
It has a soft and smooth inner lining that is gentle against your baby's bottom.
It has elastic leg cuffs that move with your baby to help them contain everything a diaper needs to provide.
It has cloth-like stretchy back tabs that make it fit comfortably.
Available in fun themed prints.
Pros
It has an absorbent core.
The leg cuffs help to prevent blowout and leaks.
Chlorine and bleach free.
Check Price at Amazon

4. Aden + Anais Disposable Diapers
The next disposable diapers are from Aden + Anais which are excellent for severe diaper rash. This is a super absorbent diaper that offers your baby super leak protection as well.
This product can keep your little one super comfortable and dry both day and night.
They have a breathable and soft inner lining.
The wetness indicator helps to take the guesswork away.
They are free from chlorine, lotions, fragrances, latex, lead, and heavy metals.
They are hypoallergenic so they won't irritate your baby's skin.
They have stretchy side panels and fit perfectly.
They come in different cute patterns.
Pros
Very soft.
Good absorption.
Easy to tell if there is a blowout.
Free of harsh chemicals and hypoallergenic.
Check Price at Amazon

5. Parasol Co Baby Diapers
The last diaper for severe diaper rash is similar to the Honest Company diaper, but they are softer and slightly pricier.
These diapers fit just right, and they are soft to the touch.
This product's diaper cores are made with wood pulp sourced from sustainably managed forests.
They come in many beautiful prints.
It features a Dry Lock Technology that helps to make it super absorbent.
The breathable back sheet helps to keep the baby's skin dry and comfortable.
It has a luxurious top sheet that gives your baby all the softness they need.
The elastic on this product is gentle, and it is hygiene grade to give your baby an exceptionally comfortable fit.
This diaper is chlorine, fragrance, lotion, latex, and lead-free.
The Parasol baby diaper is a revolutionary diaper that promises to protect your baby from leaks.
Pros
Luxuriously soft top sheet.
Very absorbent.
Breathable back sheet.
Check Price at Amazon

There is no one size fits all in terms of diaper nature, so trial and error will help parents to get the answer to the ideal diaper for their baby.
Severe diaper rash is not necessarily a sign that you are doing something wrong; they are just one of the parenthood struggles among many others. Once you have been able to know the cause of your baby's flare-ups and you have identified the best way to treat it, managing it then becomes more comfortable.
During this time, disposable diapers are a better option than cloth diapers and all the products we have selected in this guide will do just fine to help relieve your baby of any sensitivities.

References
"What's Really Causing Your Baby's Diaper Rash? – Health Essentials from Cleveland Clinic". Accessed January 31, 2019. Link.
"Diaper Rash Treatment & Management: Emergency Department Care, Consultations". Accessed January 31, 2019. Link.