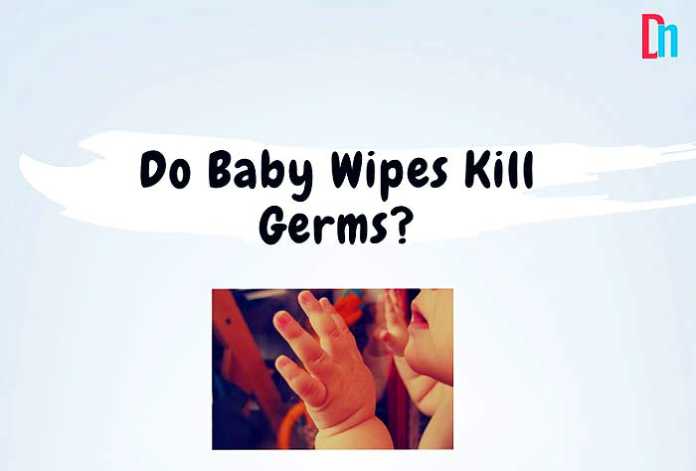 Do Baby Wipes Kill Germs? As a mom who wants to have complete baby essentials from time to time, baby wipes aren't supposed to be missed out on the list. While baby wipes are useful, they are also a huge help, especially when out for travel or vacation.
These baby wipes are very functional and specially designed to work well with baby's skin – but are they capable of killing germs, too? Let's find it out in this page.
Do baby wipes actually kill germs?
Yes. Baby wipes are specially designed for babies, and one of its jobs is to keep the babies' skin clean and free of germs. It contains preservatives that act as antibacterial compounds that are safe for babies.

Baby wipes are moistened cloths or wet wipes that come in a compact size. These wipes are used to clean babies, especially when not at home. It is used to clean babies' sensitive skin and specially made for infants. Indeed, baby wipes are handy and have different uses for convenience.

Since every baby is unique, they also have different requirements too, especially when using a specific product – and that's why baby wipes have different types. Here are the following.
Hypoallergenic Baby Wipes – these wipes are used for sensitive skin.
Unscented Baby Wipes – basically, these wipes do not contain any fragrance that might affect the lungs of your babies.
Organic Baby Wipes – these wipes contain only natural ingredients that are safer and healthier for your baby and the environment.
Cloth Baby Wipes – these wipes are reusable, just like cloth diapers.
Flushable Baby Wipes – these wipes are safe for septic and sewer systems.

What to look for in baby wipes?
Surely, you want the best for your children – but to do that, you need to consider things when choosing the best baby wipes for them. Here are the things to look for when selecting the best baby wipes:
Price.
Ingredients.
Texture.
Thickness.
Softness.

When looking for the best baby wipes, you should also consider the things you need to avoid so that you can quickly check if a particular brand is the right one. Here are the following things that you need to avoid when buying baby wipes:
Toxic Ingredients:
Bronopol
Fragrance
Parabens
Polyethylene glycol
Phthalates
MIT or Methylisothiazolinone
SLS or Sodium Lauryl/Laureth Sulfate

Are baby wipes antibacterial?
Yes. Baby wipes contain antibacterial compounds that kill bacteria, making your baby free of germs and viruses. Even though it doesn't contain alcohol because it can irritate your baby's skin, it has substitute compounds that can kill bacteria.

What are the most common chemicals found in baby wipes?
To understand each ingredient that is found in the packaging of baby wipes clearly, take a look at the table below.
| | |
| --- | --- |
| Water | It is used to make the wipes moist. |
| Phenoxyethanol | It is a kind of preservative that kills bacteria; it comes in an oily liquid form and colorless. |
| Sodium Citrate | It is used to keep the pH level of the skin. |
| Sorbates & Benzoates | This chemical is soluble in water; it is an organic chemical that also serves as a preservative. |
| Glycerin | It is a thick liquid, odorless, colorless, and used to make the product smooth and soft. |
| Propylene Glycol | It acts as a moisture content for the skin. |
| Triclosan | It is another type of antibacterial compound that is used to kill bacteria and germs. |

When do you need to use baby wipes?
Not all baby wipes are made equal or alike. Some brands might affect the skin of your baby – even the most popular ones. Every baby's skin has a different reaction to a certain product, including baby wipes. While baby wipes are handy for parents, they shouldn't be used for a newborn baby. You have to wait until he or she reaches 1 month old before you use baby wipes that will work well with him or her.

General Uses of Baby Wipes
Though baby wipes are specifically designed for babies, it can also be used by adults and other purposes too. Here are the different uses of baby wipes:
Eye makeup remover.
Freshen up on a hot day.
Stain remover.
Quick wipe up for pets.
Wipe off shoes.
Wiping off the dirt on your baby.
Craft clean up.

Is it safe to use baby wipes most of the time to remain clean?
As long as the ingredients used in baby wipes are safe, there's nothing wrong with using it most of the time. Just make sure that your children are not developing any skin discomforts or allergies.

What are the possible side effects of baby wipes on a baby's skin?
The most common side effects of using baby wipes on a baby's skin have rashes or allergies. This because your child is allergic to a particular ingredient that is used to formulate this product. To ensure that your child will not develop this skin discomfort, buy a small pack, try it first on your baby's skin, and observe if something may appear on his skin.

Baby Wipes Vs. Wet Wipes – which one is better?
Baby wipes and wet wipes are entirely different – and the only thing that these two are similar in a way is that they are used for cleaning. Baby wipes are meant to clean a child, can be used by adults, and used to clean other stuff too. Wet wipes contain antibacterial properties, including alcohol, that is totally prohibited from using on babies as it can develop skin discomforts. So, basically, it depends on how, when, and who will use the wipes.

We ♥ honesty! Diaper News earns a commission through the following independently chosen links at no additional cost to you.
Top 5 Best Baby Wipes That Kill Germs
To help you picked the best baby wipes that kill germs, we recommend the following:
Babyganics Face, Hand, & Baby Wipes
Aside from being free from toxic ingredients such as parabens, sulfates, phthalates, fragrances, and dyes, Babyganics Baby Wipes are formulated with plant-derived ingredients, making it safe to use even with sensitive skin.

Sale
Huggies Natural Care Baby Wipes
Huggies Natural Care Baby Wipes are hypoallergenic, soft, enriched with vitamin E and aloe, and hypoallergenic. These wipes are also free of fragrance, alcohol, parabens, and MIT, which are known as harmful chemicals.

Aveeno Hand & Face Baby Wipes
These baby wipes from Aveeno contain aloe, oat extract, and mild cleansers and moistures tp gently clean the skin and to use for all skin types. It is also formulated without harmful chemicals not to irritate the baby's skin.

Seventh Generation Baby Wipes
Aside from being gentle as water, Seventh Generation baby wipes are unscented, soft yet thick, dermatologist-tested, and hypoallergenic. These wipes are fragrance-free, alcohol-free, and paraben-free, making it safe to use even with the most sensitive skin.

Sale
Baby Wipes by Bloom Baby
These water-based baby wipes are infused with plant-derived vitamins. It is also hypoallergenic, thick, soft, and specially formulated to use on babies with most delicate skin.

Baby wipes are convenient to use and play a huge role in every parent's life – from birth onwards, but you shouldn't rely on it when maintaining the cleanliness of your baby.
If you are trying to look for the best baby wipes, make sure to consider not only how it will affect your children but also how it will affect our environment.
Always look carefully and pay attention to its ingredients, as these might include harmful chemicals that will affect the skin of your children.

Key References
"Huggies Natural Care Wipes – Alcohol Free Baby Wipes". Accessed November 05, 2019. Link.
"Skin Allergies | Causes, Symptoms & Treatment | ACAAI Public Website". Accessed November 05, 2019. Link.