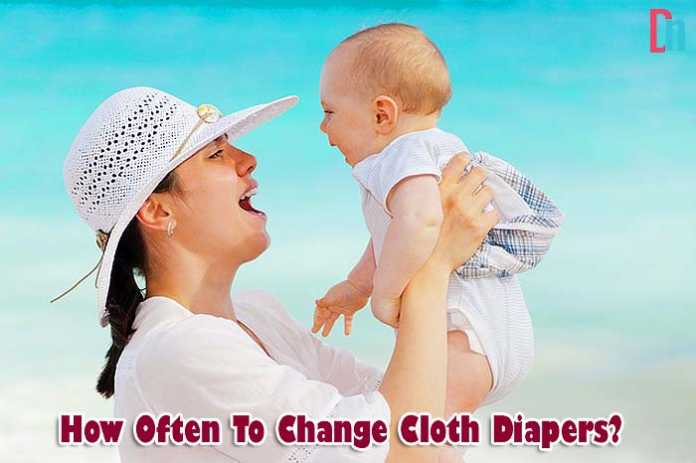 How Often to Change Cloth Diapers? Cloth diapers do not contain superabsorbent polymer (SAP) that's why you need to change it frequently. Babies who wear cloth diapers need to be replaced every 2-3 hours.
Still, you need to check every now and then because there are babies who pee more often. Though cloth diapers can't hold liquids for more hours, it's safer for your baby than any disposable diapers.
We ♥ honesty! Diaper News earns a commission through the following hand-picked links at no extra cost to you.
How to Know When You Need to Change Cloth Diapers?
Knowing when to change cloth diapers is easy. You just need to use your senses to tell if it is already time to change it. Here are the ways to know how:
If the cloth diapers look like hanging lower, then it's a sign to change it because it's already wet.
You can also touch the cloth diaper outside and feel if it's wet. If you are not using a waterproof cover, you can quickly tell if it's time to change it.
If the cloth diaper feels heavy, warm, and firm, then, you also need to change it right away.

How Many Cloth Diaper Changes a Day?
The number of cloth diaper changes per day depends on the age of your baby, how often she goes to the bathroom to make her habits, and of course, how much you love to wash these cloth diapers. If you are just starting to use cloth diapers, owning 2-3 of them is a great start – that is only possible if you do not mind washing it daily.
For newborns, you need to have at least 10-12 cloth diapers each day.
For infants, 8-10 cloth diapers are enough to last a day.
For toddlers & older babies, 5-8 cloth diapers are needed per day.
Always remember that it is still better to stock extra cloth diapers for emergency use or if you are lazy enough to wash it.
Check Price at Amazon

How Often to Change Cloth Diaper Cover?
Just like with cloth diapers, cloth diaper covers need to be changed if it's soiled or have a strong smell of pee.
For newborns, you need to change the covers for at least 6-8 times a day.
For infants, 4-6 times each day would be enough.
For toddlers, you can change cloth diaper covers 2-3 times per day.
If you are using wool-type cloth diaper cover, then you don't need to change it more often as it doesn't require to wash daily.
Check Price at Amazon

How Often to Change Cloth Diapers at Night?
There is a huge possibility that your baby might soil the cloth diaper in the middle of the sleep. So, you need to change your baby's cloth diaper at night for at least 1-2 times all throughout the night.
Getting wet or soaked is genuinely uncomfortable and irritable – and if you want to let your baby sleep at peace, make him comfortable through preventing the cloth diaper from being full.
If you don't want to change your baby's cloth diaper that much throughout the night, then you can come up with a nighttime solution that will work out for you & your baby.
Here are some of the options you might need to consider:
Use a hemp-made insert.
Double-up your insert for extra absorbency.
Adjust the fit of the diaper so that it will not easily leak.
Use cotton prefolds.
Check Price at Amazon

How Many Cloth Diapers Do You Need?
The real thing is, you do not need to own that much when it comes to cloth diapers. But still, it's up to you how many cloth diapers you want depending on your mood to wash them off and the age of your baby.
Here's the recommended list of cloth diapers you need per baby's age:
For newborn and infant babies, owning 24 cloth diapers are a good head start.
For older babies and toddlers, 18-20 cloth diapers would be fine.
To prolong the lifespan or the condition of each cloth diapers, do the rotation in using them so that not a single diaper will be washed over and over again.
Check Price at Amazon

How Long Do Cloth Diapers Last?
The number one reason why most parents are switching into cloth diapers is to save money. Using cloth diapers is great, but they do not provide the magic.
If you own few cloth diapers and washing them regularly, then don't expect that it will last for a couple of years.
The average lifespan of each cloth diaper, regardless of its brand, is more or less about 2-3 years.
Its life span depends on how often you use it, the way you wash them, and how you take care of it.

How Do Cloth Diapers with Inserts Work?
Usually, inserts are rectangular and made from absorbent materials which are also created to be inserted in pocket diapers. They are the one who absorbs the fluids from your baby like watery poop and pee – and needs to be changed if they are wet.
These inserts are made from different absorbent materials such as:
Hemp: they are popular for being durable and thirsty in the world of cloth diapering.
Bamboo: they're known for being soft and absorbs the moisture quickly, making your baby feel comfortable even he is wet.
Cotton: it is one of the most common and familiar fabric not just in cloth diapering but everywhere in the world. They're absorbent, affordable and available in all leading markets.
Microfiber: it is an absorbent and man-made fabric made from a polyester blend which is light and dry quickly.
Zorb: it is a blend of four fabric materials such as cotton, bamboo, microfiber, and viscose.
Minky: it is also a man-made and absorbent fiber, which provides absorbency similar to microfiber, but it's less bulky, does not feel rough, and can easily remove the stain than microfibers.
In choosing the best inserts for your baby, make sure to know which one is the most effective when it comes to absorbency and how it affects the skin of your baby.
Check Price at Amazon

How Much Money Do I Save with Cloth Diapers?
Cloth diapers can truly save you extra cash if and only if you know how to use it right.
The amount of money you can save if you use cloth diapers depends on how you are impulsive or not when it comes to buying it.
As per some experts, you will be needing a total of 8,000 diapers until you potty train your baby.
Let's say that each diaper costs $0.17, and you need to complete the 8,000 pieces of diapers, all in all, that would be a total of $1360.
For cloth diapers, you can find a lot of options on Amazon. Let's say that there's a cloth diaper in $40 per 6 pieces and you will be needing more. Let's say you will need 42 pieces of cloth diapers and that would be a total of 7 packs. So, $40 multiplied by 7 boxes is $280. As for the inserts, you can buy how many inserts you want and still will not cost you a lot of money compared to using disposable diapers.

How Many Cloth Baby Wipes Do I Need?
Most moms who use cloth diapers think of using cloth wipes too. Using cloth wipes can also save you money plus helps you avoid the usage of disposable wipes, which contains chemicals that may irritate your baby's bottom.
The total number of cloth-wipes you need is around 18-24 pieces – because they can be washed off too repeatedly.
Just like disposable wet wipes, you can also make wet cloth wipes by using wipes solution or even water.
Most cloth wipes come in different materials used like hemp, flannel, velour, and cotton fabrics.
Check Price at Amazon

Cloth diapers are truly environmentally-friendly and will help you save more money because they are reusable. Your effort, time, and work are needed if you choose to use cloth diapers.
With cloth diapers, you can assure and guarantee the safety of your baby from any harmful chemicals that disposable diapers contain.
At first, you will not be able to cope up easily on how to use and wash it, but as time goes by, you will be an expert on doing those things for your baby. They are not as intimidating as what other people think because it has a lot of benefits to provide for you, your baby, and the environment.