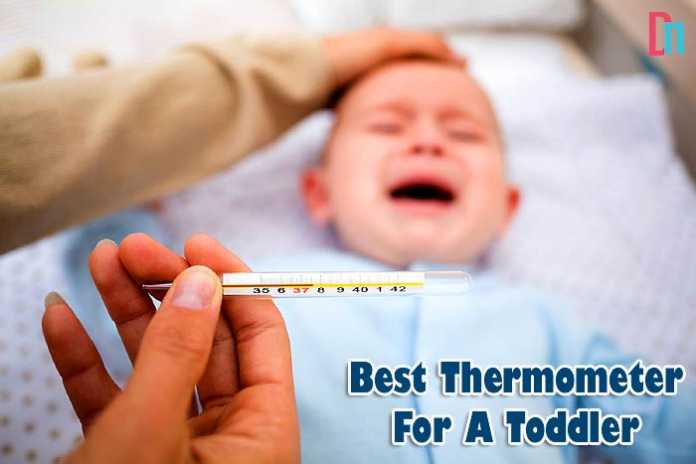 First-time mom or not, it is ideal to have a medical kit in your house – and that includes a thermometer. You cannot tell when your little one will catch flu, and to know and monitor his temperature, you should have a thermometer with you – always. Find the best thermometer for a toddler on this page.
A thermometer will give you an accurate body temperature reading as well as assurance and peace of mind.
Sale
Best Thermometer For A Toddler
Our Pick
Before we proceed to different brands of a thermometer, we picked iHealth forehead thermometer as the best thermometer for toddlers. It features a large LCD screen display with innovative backlit design, easy to use and operate, offers different modes, and accumulated separate approval from reliable organizations.
We ♥ honesty! Diaper News earns a commission through the following hand-picked links at no extra cost to you.
Why do we need a thermometer for a toddler?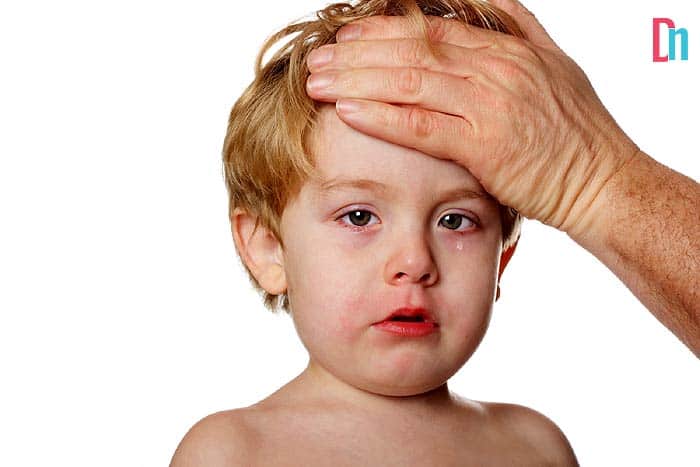 Thermometers are handy and helpful to parents – as they can end all the worries away and can answer every parent's fear – a high body temperature that might lead to other serious illnesses. Having a thermometer that is specifically made and designed for toddlers will help keep your little one safe.

Different types of thermometer for toddlers
Before other types of thermometer evolved, most medicine cabinets have an only glass mercury thermometer, – but due to some reasons, it isn't recommended anymore as it can break easily, and the mercury can be inhaled, which, is not good for anyone's health. When buying the best thermometer for a toddler, you might want to consider the following types:
Digital thermometer: In today's generation, this digital thermometer is mostly used by parents when getting their child's body temperature – simply because they are too easy to use and functional. It includes an electronic sensor and a digital read-out. Furthermore, it can be used rectally, axillary, and orally.
Glass thermometer: It is the thermometer you have seen and remember from your childhood. It is placed under the tongue, or the arm and the mercury itself will rise, then you can read the body temperature.
Ear thermometer: With an ear thermometer, you can get the body temperature quickly through sensing the heat from the inside part of the ear with the help of an infrared.
Temporal Artery thermometer: It is commonly known as the forehead thermometer. With a temporal artery thermometer, the infrared heat will sense the heat that comes from the forehead.

When getting the best thermometer for a toddler, it is essential to consider the following features:
Accuracy.
Consistency.
Sound.
Backlit display.
Speed.

Best Thermometers for Toddlers
Here are the top 10 best thermometers for a toddler on the market today:
1. PREVE No-Touch Forehead Thermometer
PREVE is a forehead thermometer that is also known as a digital, medical, and infrared thermometer for toddlers – and also approved by the FDA.
It features an advanced infrared detection system that ensures precise results – takes your child's temperature in 1 second fast.
This forehead thermometer boasts a non-contact design where you can still get an accurate body temperature even at a 1.2-2 inches distance from the forehead.
With PREVE No-Touch forehead thermometer, you can review your child's past body temperature to differentiate and monitor it quickly.
PREVE's large, three-color display screen can detect the health status instantly, and it comes with a backlight so you can see the readings at a dark place. Plus, you can choose whether in Celsius or Fahrenheit preference.
It features 3 measurement modes, meaning it is not only intended to be used as a device for getting the body temperature but also surface temperature and room temperature.
Pros
1-second fast reading.
Color-coded screen.
Large LCD with backlight.
Accurate & reliable.
Non-contact design.
32 readings memory data.
3 measurement modes.
Celsius or Fahrenheit preference.
Silent mode option.
Cons
Too loud beep tone.
Not as accurate as advertised – it gives 3 different readings consecutively.
Check Price at Amazon

2. iHealth Forehead Thermometer
IHealth forehead thermometer comes with 3 ultra-sensitive sensors to provide the best accuracy for every reading.
iHealth forehead thermometer is backed by clinical validated and recommended by the pediatrician.
With its innovative design and simple to use control by one button, this forehead thermometer is perfect for all ages.
iHealth forehead thermometer features an extra-large digits LED screen that displays the readings in bright white light – to see even at the darkroom.
It features a gentle vibration notification to notify you without waking up your toddler when asleep.
This thermometer from iHealth is FDA approved, CE approved, and meets ASTM standards.
Pros
1-second reading.
Accurate & reliable.
3 ultra-sensitive sensors.
Easy to use.
Innovative design.
Gentle vibration notification.
Bright white light & large screen display.
Celsius and Fahrenheit display.
FDA & CE approved.
Meets ASTM standards.
Cons
Need to wait for 8 seconds to change measurement preferences.
Check Price at Amazon

3. GoodBaby Ear Thermometer
Taking the ear temperature with the GoodBaby ear thermometer is as simple as pointing and pressing the button.
GoodBaby ear thermometer uses infrared technology to get body temperature with accuracy and consistency quickly.
This ear thermometer can show readings in Celsius and Fahrenheit.
It features an HD LED screen that displays clear and crisp numbers that are easy to read.
This ear thermometer from Goodbaby supports not only ear and forehead function but also room temperature.
With GoodBaby ear thermometer, you can store up to 35 temperature readings and recall them anytime you need.
Pros
35 temperature readings to recall.
Easy to use & operate.
Multi-function.
Celsius & Fahrenheit.
HD LED screen – large with backlit display.
Alarm, mute & auto shut off.
Accurate, fast, and reliable.
Cons
Not as precise as advertised – two different temperatures from ear & forehead.
Check Price at Amazon

4. Braun Digital Ear Thermometer
Braun digital ear thermometer features a patented pre-warmed tip for accurate reading temperature values – latex-free and BPA-free.
Braun ThermoScan5 digital ear thermometer is gentle, easy, and accurate, making it a great and ideal device for checking a toddler's body temperature.
It features a pre-warmed tip to ensure accuracy hen getting temperature readings.
This ear thermometer from Braun is easy to clean as it uses disposable lens filters to maintain hygiene and decrease cleaning time.
With Braun ThermoScan5, you can recall the last temperature taken.
This ear thermometer is BPA-free, meaning it is safe to use for toddlers.
Pros
BPA-free.
Gentle, easy, and accurate.
pre-warmed tip.
Positioning system.
Memory function.
Disposable lens filter.
Large LCD screen.
Check Price at Amazon

5. Simplife Forehead Thermometer
Simplife forehead thermometer allows you to get your little one's body temperature easily and quickly – just press its button and get it done in 1 second.
This forehead thermometer from Simplife is clinically tested and proven to be reliable and accurate when used under instructions.
It can recall and store up to 20 readings – so you can read it anytime.
It features a fever alarm by showing up a red backlight display and 10 short beeps.
Simplife forehead thermometer comes with a large, LCD screen that displays numbers in a larger size as well as a backlight to see the readings in the dark.
With this forehead thermometer, you can read the temperature in Celsius and Fahrenheit – plus, it automatically turns off.
Pros
Auto shut-off.
Easy to operate.
1-second reading time.
Store and recall 20 readings.
Fever alarm.
Large LCD with backlight.
Celsius & Fahrenheit preferences available.
2 modes – ear & forehead.
Silent mode.
Cons
Reads different temperatures for ear & forehead modes.
Check Price at Amazon

6. Hobest Baby Thermometer
Hobest baby thermometer is easy to use, quick to read, and painless when getting the accurate temperature of your toddler.
Hobest baby thermometer guarantees a 1-second instant, accurate reading time.
With Hobest thermometer, you can adjust the measurement unit from Fahrenheit to Celsius.
It offers multiple modes such as forehead mode, ear, home, and surface.
It features a fever alarm with red backlight and short beep to notify parents quickly.
It boasts a large LCD and backlight indication to identify the temperature readings in the dark environment.
Pros
1-second instant & accurate reading time.
Adjust measure from Celsius to Fahrenheit.
Multiple modes.
Fever alarm.
Large LCD with light indication.
Memory recall up to 20 readings.
Auto shut-off.
Cons
Different readings on forehead and ear.
Check Price at Amazon

7. SeemtraMed Baby Thermometer
SeemtraMed baby thermometer features multiple modes when getting a body temperature, making it an ideal option to use for toddlers.
This thermometer allows you to take the temperature in Celsius or Fahrenheit through the ear or forehead.
SeemstraMed smart forehead thermometer can memorize up to 35 temperature values so you can review it anytime.
SeemstraMed thermometer is battery operated – and it includes free batteries that last for up to 3000 temperature readings.
It features a large LCD that comes with a backlight to correctly see readings anytime.
It includes a fever alarm to notify parents that their little one has a fever quickly.
Pros
Comes with free batteries.
Multiple modes.
Measurement units available – Celsius & Fahrenheit.
Memory recall.
Large LCD with backlight.
Fever alarm.
Cons
Need to press the button hard.
Check Price at Amazon

8. Mosen Thermometer for Fever
This digital infrared thermometer from Mosen features 2 modes – ear and forehead, making it suitable not only for babies but also for toddlers and adults.
With clinical validation & European certification, this Mosen digital infrared thermometer is reliable when it comes to safety and accuracy.
Mosen thermometer can store 40 sets of temperature readings, allowing you to read and track your child's temperature anytime.
It features 4-color backlight for different body temperatures to inform you how severe or not his condition quickly.
It can also be turned into mute mode if you don't want to disturb your toddler by its beep alert.
Mosen thermometer allows you to get the body temperature in 2 measurement units – Fahrenheit and Celsius.
Pros
4-color backlight.
Large LCD screen display.
3 modes – object, ear, and body temperature.
Stores 40 sets of temperature readings.
Mute mode.
2 measurement units available.
Magnetic design for switching modes.
Accurate & reliable.
Clinical validation & European certification.
Cons
Took a few seconds to read the temperature.
Check Price at Amazon

9. iProven Forehead Thermometer for Kids
iProven forehead thermometer for kids is equipped with the latest infrared scan lens technology, making it possible to detect even the slightest rise in temperature.
This digital temporal thermometer has been extensively clinically tested, making it accurate and reliable for temperature readings.
It features a silent mode and backlit display that allows you to get the temperature of your baby in the dark without waking him up.
iProven thermometer for kids isn't only calibrated to measure body temperature, but also the temperature of objects and surface.
With iProven forehead thermometer, temperature reading gets done quickly – guaranteed 1-second fast.
Aside from having a large screen display with visible numbers, this thermometer from iProven features an intelligent fever warning.
Pros
Large LCD screen with backlit.
Clinically tested – accurate & reliable.
Intelligent fever warning.
1-second fast reading.
Multiple modes.
Silent mode.
Memory recall.
2 measure units available.
Cons
Switch for measurement units is hard to find.
Check Price at Amazon

10. ReliefCare Forehead & Ear Digital Thermometer
This forehead & digital ear thermometer from ReliefCare isn't only for toddlers, but also babies and adults of all ages.
It can measure body temperature using forehead or ear mode – and also take room & object temperature as well.
ReliefCare has been proven clinically when it comes to being fast, safe, and accurate.
It features 1-second latency time when reading temperature, freeing your toddler from disturbance.
The LCD screen of this thermometer feature color alerts to quickly signal the parents about the temperature.
With this ReliefCare thermometer, you can have a quick recall of the last 35 scans to monitor the health of your little one.
Pros
Professional grade – safe for all ages.
4 temperature modes.
Fast, accurate, and reliable.
Fahrenheit & Celsius measurement units.
Large LCD screen with color alerts.
Memory storage and recall.
1-second latency reading time.
Fever alarm.
Cons
No mute and unmute button.
Check Price at Amazon

Sale
Best Thermometer For A Toddler
Our Pick
After reviewing the different thermometer brands for toddlers, the best one we recommend is the forehead thermometer from iHealth.
Aside from its different and innovative design above all thermometers mentioned above, it is the only thermometer for toddlers on the list that is approved by FDA & CE - plus, meets ASTM standards.
When choosing the best thermometer for a toddler, always make sure that the product you will be using features a large LCD with backlight, multi-functional, offers different modes, easy to operate, and approved by a reliable organization for safety and guarantee.

Key References
"How To Use A Thermometer To Take Your Temperature | Cleveland Clinic". Accessed January 20, 2020. Link.
"Thermometers: Understand the options – Mayo Clinic". Accessed January 20, 2020. Link.