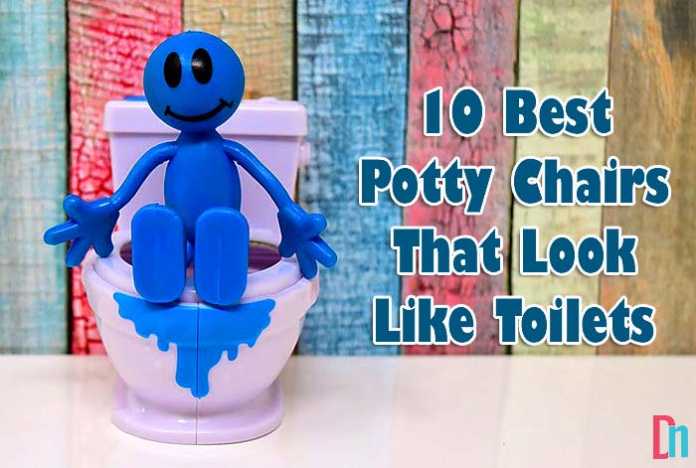 Choosing the best potty chairs that look like toilets will help your child transition quickly into using the toilet. If your little one is approaching the age of potty training, it might be a good time to consider one of these.
We ♥ honesty! Diaper News earns a commission through the following hand-picked links at no extra cost to you.
Sale
Best Potty Chair That Looks Like Toilet
Best Choice
Our top pick for the best potty chair that looks like toilets is the Summer Infant My Size. It comes with many realistic details that will help ease the process of potty training your child.
Potty chairs like these are useful because they help the child understand the purpose of the potty.
10 Best Potty Chairs That Look Like Toilets
1. Summer Infant My Size Potty
The Summer Infant My Size Potty is very useful to potty train your child because it helps them to make a connection between the regular toilet and their potty.
Not only is it highly functional, but it is also very well designed.
The contoured design of the seat helps to increase comfort while also adding to its realistic feel and look.
You can easily lift the seat to remove the one piece bowl, so it is easy to clean.
Another cool thing about this potty is the flushing handle that makes realistic flushing sounds.
This teaches your child how to flush when they are done and can also serve as an exciting reward when they use the potty.
The Summer Infant My Size Potty also comes with a built-in wipes compartment.
The compartment is easy to open and close, so you don't have to worry about it hurting your little one's fingers.
It has a removable splash guard which you can use or take off depending on your preference. The drawback with the splash guard is that it falls off easily.
Pros
Easy to clean.
Flushing handles with a flushing sound.
Storage area for underwear or wipes.
Cons
The splash guard falls off easily.
Check Price at Amazon

2. Fisher-Price Perfect Potty Ring
The Fisher-Price Perfect Potty Ring is a compact and excellent potty seat option that perfectly works on any toilet.
You just have to place it on your existing toilet seat and press down the backrest so it can adjust automatically to the toilet seat.
It provides a sturdy and gentle grip on the toilet, so you don't have to worry about your child slipping or falling off.
It features a contoured shape that ensures your child's comfort.
The integrated splash guard helps to prevent any unwanted mess.
There is an easy to use storage on the back that allows you to hang it up quickly in the back if your toilet when it is not in use.
This helps to make it easily accessible when you need it, and it also saves space.
Pros
Contoured seat.
Integrated splash guard.
Built-in handles.
Compact design.
Fits most toilets.
Cons
It does not provide a way for your child to get on and off the toilet.
Check Price at Amazon

3. Fisher Price Laugh and Learn Potty
The Fisher-Price Laugh and Learn Potty is all about flushing.
What makes this potty unique are the water display, lights, and musical sounds.
Once your toddler pulls the flush handle, the screen will come up with a twirling water display.
Besides the flush handle, this potty is 3 in 1 as you can use the seat on a regular toilet or remove the inner bucket for cleaning.
The splash guard is great for boys as it helps to prevent unnecessary mess when they need to pee.
Pros
3 in 1 potty and seat.
Fun display.
Sturdy handles.
Cons
The battery runs down quickly.
Check Price at Amazon

4. Summer Infant Step by Step Potty
The Summer Infant Step by Step Potty is a Potty chair that looks like a toilet.
The subset wee pot with a spout makes this potty unbelievably easy to empty.
It comes with a soft, comfy seat that ensures your baby is comfortable wherever they need to go.
It is multi-functional as the top part can be separated and used with a traditional toilet.
The base can also be turned into a step that allows your toddler to use the toilet easily.
It comes with a toilet roll holder and a lid line and an actual toilet.
The Summer Infant Step by Step Potty is long lasting and versatile as you can use it as a steep or toilet training seat.
Pros
Comfortable seat.
Easy to clean.
Versatile.
Long lasting.
Cons
It can be expensive for some parents.
Check Price at Amazon

5. KIDPAR Potty Training Seat
The KIDPAR Potty Training Seat will help your toddler learn to use the potty themselves and save you from having to clean their potty.
The height is adjustable so you can adjust according to your child's height.
It easily folds for storage, and you can tuck it against a wall.
The handle will fit your child's hands perfectly; this gives them a sense of security.
It features a splash guard that works to prevent pee from escaping the potty, helping to save you from an unwanted mess.
It has anti-slip fins food pedal tar prevents your child from toppling when climbing up or down.
The anti-skip rubber liner seat prevents the potty seat from sliding and slipping around the toilet.
It features an adjustable foot pad that can be rotated for better adaptability to the ground.
It fits most of the standard toilets on the market.
Pros
Sturdy and safe.
Adjustable height.
Splash guard.
Non-slip step stool.
Anti-skip rubber lined seat.
Check Price at Amazon

6. Summer Infant My Size Potty (Pink.
This is the female version of the Summer Infant My Size Potty.
It is an adult toilet lookalike, which makes it an excellent choice for a realistic learning experience for your child.
It features a flush handle which makes a realistic flushing sound.
There is a small storage area at the where you can store your toddler's wipes or paper.
The lid is easy to open and close, which makes it easy for your child to go whenever they want to.
The clip-on splash guard on this potty is large and easy to remove and put on.
This makes it more hygienic.
Pros
One piece bowl.
Flushing handle.
Realistic toilet design.
Wipes compartment.
Cons
Splash guard does not stay in place.
Check Price at Amazon

7. Learn Laugh Love Potty Seat
This 'Learn Laugh Love' Potty Seat makes potty training your child easier.
It features a wide, durable step that is adjustable.
It can accommodate all kid's sizes so they will be comfortable using this.
The removable soft cushion seat and splash guard makes cleaning easy.
You don't have to worry about cleaning any potty as it is designed to fit most toilets.
It is lightweight and easy to fold, making it perfect for travel.
It features a non-slip step stool that makes it safe to use.
The non-slip floor pads and adjustable feet ensure it stands securely so you can adjust it to the toilet's height.
Pros
Easy and convenient to use.
Fit oval and standard toilet seat.
Stable and secure.
Cons
Can't fit square shaped toilet seats.
Check Price at Amazon

8. GrowthPic Toddler Toilet Seat
The GrowthPic Toddler Toilet Seat can easily fit over the top of your toilet.
It comes with both a step ladder and handles that let your toddler use the toilet with a greater level of independence.
It features a cushioned seat that allows your child to seat for as long as they want to.
The handles give your toddler a place to hold, giving them additional stability.
The seat is easy to lift off and fold up in between uses.
If you are looking for a potty training product that fits a traditional toilet, this is a perfect option.
Pros
Cushioned Seat.
Easy to clean.
Adjustable step height.
Cute design.
Cons
No clear assembly instructions.
Check Price at Amazon

9. Mangohood Toilet Training Seat
The Mangohood Toilet Training Seat will give your toddler the needed confidence to use the toilet independently and safely.
It features a sturdy design that will enable your child to sit comfortably on the toilet.
It is easy to fold and store in between uses.
It features a PU cushioned seat that can help to improve your child's confidence and comfort.
It comes with an adjustable footrest, so it grows with your baby.
It is suitable for O-shaped, U-shaped, and V-shaped toilets.
Pros
Easy to assemble.
PU cushioned seat.
Adjustable footrest.
Fits most toilet seats.
Check Price at Amazon

VIBOE Training Seat is made from high-quality PP material that is wear resistant.
It features a smooth surface that is easy to clean, and it is free from BPA.
The splash guard helps to direct the flow of pee into the toilet to reduce accidents on the floor.
It features a comfortable backrest that is safe for your child's spine.
The soft cushion seat and multilayer delicate design help to protect your child's skin.
It is durable and will last through many uses.
Pros
Comfortable and safe to use.
Stylish design.
Easy to clean.
Large splash guard.
Cushioned seat.
Cons
It can only fit elongated or round seats.
Check Price at Amazon

Although potty training your toddler is a significant milestone, it can take some time. Potty chairs that look like toilets are perfect for easing your child into using the actual toilet. Choosing any of the products in this guide will make a huge difference in their potty training success.