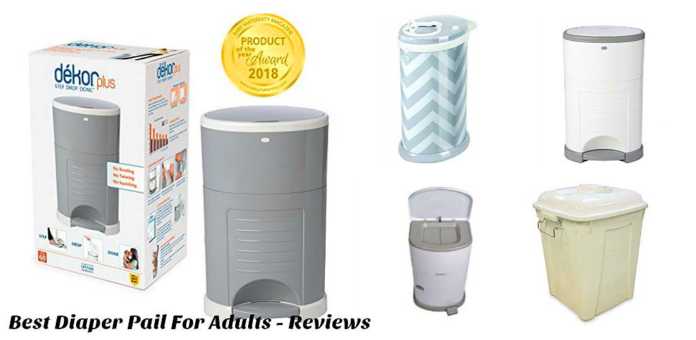 Looking for the best diaper pail for adults? You're in the right place! Adult incontinence is a common but very private issue; most incontinent adults would prefer to keep it private unfortunately the odors associated with soiled briefs can make this problematic.
We ♥ honesty! Diaper News earns a commission through the following hand-picked links at no extra cost to you.
Best Diaper Pail For Adults
Our Pick
Our top pick for the best diaper pail for adults is Odor-Locking AKORD Adult Diaper Disposal System. This can hold up to 35 adult diapers with 11-gallon capacity. This discreet & lightweight adult diaper pail works extremely well for adult incontinence products.
Most individuals with incontinence tend to use diapers, and if not properly disposed of they can leave an unpleasant smell. This is why it is important they are handled and disposed of in such a way that unpleasant odors are reduced from home. This will make your surroundings in the house more pleasant for you and your visitors.
Best Adult Diaper Pail Comparison Table
Preview
Popular Choice
Trash Bag Options
Continuous Liner Bag System
Continuous Liner Bag System
Diaper Capacity
35 Adult Diapers / 120 Infant Diapers (11 Gallons)
45 Infant Diapers / 20 Adult Diapers
60 Infant Diapers / 35 Adult Diapers
50 Infant Diapers / 25 Adult Diapers
Color Options
Gray, Soft Blue & Soft Pink
Material Makeup
Plastic with Activated Charcoal
There are many ways to manage this, but some are more effective than others. One of such techniques is investing in the best diaper pail.
Diaper pails have a great capacity, large enough opening, and are very effective in disposing of soiled pull-ups and adult diapers.
Is a Diaper Pail needed for adult diapers?
You cannot wrap the soiled adult diapers in a plastic bag and then toss them into the regular garbage bags. Your whole house will be sticking for sure like you're living in a septic tank. The perfect adult diaper pail can make life less stinky by trapping the odors!
Suggested Readings:
What To Look For In Diaper Pail For Adults?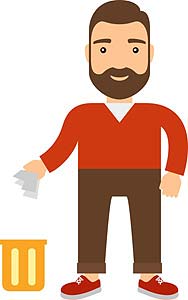 The first and foremost feature that you should look for when considering buying a diaper pail is the ease of disposal.
Can I dispose of a soiled diaper with just one hand? Some diaper pails have a foot action pedal that can be used to open them.
Although this is a nice feature, they are not necessarily more straightforward to use than those that can only be operated by hand.
The difference between these two is the tendency for the diapers to get hung up and the amount of odor that escapes while the diaper pail is opened.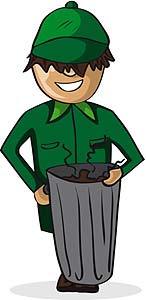 Changing diaper pail bag is something that you want to complete quickly and efficiently before you get taken out by the noxious odors.
It is essential to consider this as it is something you will be doing from time to time.
Some diaper pail for adult diapers has an integrated blade that cuts the bag when it is needed. This makes emptying the diaper pail more convenient as you do not have to worry about wasting bag space.
Note that some diaper pail models do allow the use of a regular trash bag as well.

C) Material (Plastic vs. Metal)
Diaper pails are usually made of plastic or metal materials. When is one more convenient to use?
Each of these models has their own pros and cons. Those made from plastic materials have more features than metal and are cheaper. The drawback of plastic materials is that they absorb odors easily and are less durable.
On the other hand, those made with metal do not absorb odors and are more durable, but they can be expensive.
There is no clear choice or winner between these two materials so you should go for the one that best suits your needs.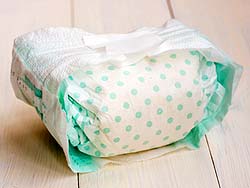 There are diaper pails for child/infant diapers in the market which may not be suitable for adult diapers. So it is essential to look for diaper pails that are specifically made for adult diapers.
Adult diaper pails should have a slightly broader or larger opening to deposit the soiled diapers that your hand can get through the opening quickly.
The next important point should look for is the capacity of the pail. In other words, how many soiled diapers can be held in the system? Since the adult diapers would be a bit heavier compared to infant's diapers, it is important to have a larger container to keep the adult diapers.
The bigger the capacity, it is less often to empty the pail but of course as long as the odor is well contained within the diaper pail!

Best Diaper Pails For Adults Reviews
Here are the 7 best diaper pails for adults on the market today:
1. Janella Akord Adult Diaper Disposal System Reviews
The first diaper pail for adults in our list is Janella Akord adult diaper disposal system. Let's review its features, pros, and cons.
Janibell Akord diaper pails solve the problem of potentially embarrassing odors by making it easy to dispose of soiled briefs discreetly.
These Akord diaper pails for adults have a double sealing system that ensures maximum odor protection.
This adult diaper pail has a pedal for one step, no touch, and hygienic diaper disposal.
Its elegant design blends in with any decor.
This best diaper pail features a unique continuous liner system that means zero waste and flexible disposal.
The liners are infused with a gently scented powder for added odor control.
This adult diaper genie is designed to accommodate adult-sized briefs.
This adult diaper disposal system is made with non-porous ABS resin so that it's durable and easy to clean.
Pros
Sturdy construction
Discreet
Odor free
Elegant design
Cons
It requires special trash bags (i.e., continuous liner system).
Check Price at Amazon

2. Ubbi Money Saving Diaper Pail Reviews
The next adult diaper pail is Ubbi Money-Saving diaper pail. The features include:
This diaper pail for adults is made of powder-coated stainless steel and rubber seals to keep odors locked in.
Both the main hatch and the sliding lid have rubber gaskets that further trap the stank from permeating throughout the house.
The opening for the sliding lid is big enough to fit an adult diaper but no bigger than it has to be.
What ultimately makes this diaper pail unique is the fact that it doesn't require any special cartridges or bags.
You can use any tall kitchen garbage bag with this disposal system.
For the price, construction, and the lack of any kind of special cartridges you actually get a lot of value for your money with this particular piece.
Pros
Attractive design
Innovative sliding lid
Large capacity
Practically maintenance-free
Slow close lid
Cons
The sliding lid is operated by hand.
Check Price at Amazon

3. Dekor Classic Hands-Free Diaper Pail Reviews
The next adult diaper pail is hands-free Dekor classic diaper pail.
This is one of the most popular diaper disposal systems on the market. This diaper genie for adults features a step-on pedal that allows for easy disposal of the diapers.
This best diaper pail for adults has the enough capacity to hold up to 45 diapers.
This best diaper disposal system has a self-closing whisper lid that shuts quietly when the foot pedal is released.
The lid of this diaper disposal system for adults has a rubber seal that is designed to keep all the offensive odors inside the disposal system even when it is opened.
This diaper disposal system is made of high-quality ABS plastic that is scratch and odor resistant.
Pros
Step-on pedal.
Odor control.
Strong rubber seal.
Many color selections.
Cons
The top opening is quite small.
Check Price at Amazon

4. Dekor Plus Hands-Free Diaper Pail Reviews
The next diaper pail for adults is Dekor Plus diaper pail which can hold more diapers at one time, and it is hands-free.
What makes this disposal system so unique is that it has a petal closing system. It has a trapdoor that helps to mask the odors.
This adult diaper dispenser has one continuous bag so if you have a soiled diaper or anything stinky in your diaper pail you could trim the bag.
Hidden inside of the diaper pail is a cutter that allows you to trim the bag and throw away the stinky portion of the bag.
Pros
Efficient anti-odor system.
Easy emptying.
Economical refill system.
Great for cloth diaper.
Cons
It can be a struggle to get all the diapers out of the bag because of its bag sealing mechanism.
Check Price at Amazon

5. Prince Lionheart Twist'R Diaper Disposal System Reviews
The Lionheart diaper pail is definitely for you if the ease of changing dirty diaper bags is a high priority because this pail makes it super easy. The features include:
Not only is this diaper disposal system easy to use but it is also odorless.
This unit has self-sealing technology that seals in odor as the lid closed.
This adult diaper bin has a seven-layer bag that traps odor molecules.
This incontinence diaper pail has a nice modern and sleek look. It can hold up to 45 diaper bags.
Pros
Sturdy design.
Self-sealing doors.
Neutral design.
It can be converted to a trash can.
Check Price at Amazon

6. Odorless Cloth Diaper Pail by Busch Systems Reviews
The diaper pail for adults is from Busch Systems – the Odorless diaper pail which is designed explicitly for cloth diapers.
This diaper pail is made from recycled plastic, and it boasts of a carbon filter that is designed to reduce the odors.
The carbon filter can be replaced with microfiber filters or bamboo for effective odor control.
This adult diaper trash can has a wide opening that allows for easy disposal of diapers.
These odourless adult diapers have a capacity of 14 gallons. It can hold two to three days worth of soiled diapers.
Pros
Effective odor control.
Wide opening.
Made of recycled plastic.
Large capacity.
Cons
The plastic design looks cheap.
Check Price at Amazon

7. Vliba Diaper Pail (White) Reviews
The next diaper pail for adults on our list is from Vliba. It comes with 6 months worth of free refill bags.
This best diaper pail for odor control is stylish, discreet, and practical. It comes in 6 different colors.
This compact-sized diaper pail can hold up to 45 newborn diapers or 20 size-5 diapers or 6 XL adult incontinence diapers.
The best part of this pail is that it Includes free lightly-scented diaper pail refill liners, which can be used up to 6 months. These bags neutralize the odor very effectively.
This disposal system is straightforward to clean and eliminates the smell with odor-locking technology.
This best diaper trash can is entirely hands-free with foot pedal operation.
Check Price at Amazon

Top Rated Diaper Pail For Adults
Best Choice
Out of all adult diaper pails reviewed above, our top recommendation is Odor-Locking AKORD Adult Diaper Disposal System.
This diaper pail holds up to 35 soiled adult diapers with 11-gallon liter capacity. This sturdy adult diaper pail works very well for adult incontinence products.
This is a must-have for adults who are looking for an easy, odor-free and elegant disposal system.
The key to your satisfaction when it comes to diaper is to have a realistic expectation and remember there would always be some odors with diapers.
The best diaper pail for adults is one that fights odor and are easy to use. If you are ready for a lifetime investment, then you should go for those with special bags that help to manage odor well.
And if you are more concerned about keeping the cost low and you don't mind the smell that comes with each deposit, you can go for simple pails that work with any size of the trash bag.