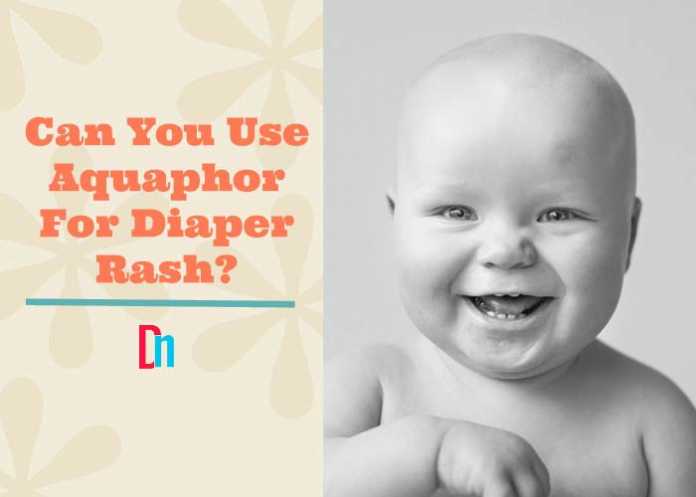 Can You Use Aquaphor For Diaper Rash? Most babies will likely face a diaper rash within the first 12 months of life. This skin irritation is very typical, and it is usually characterized by redness and raised bumps around the edges.
Although there are many causes for the diaper rash, the most common reason is frequent diaper changes which cause constant rubbing against the sensitive skin.
So, can you use Aquaphor for diaper rash? Or how do we use Aquaphor for diaper rash? or can Aquaphor prevent diaper rash?
We ♥ honesty! Diaper News earns a commission through the following hand-picked links at no extra cost to you.
Explore the answers to these questions on this page.
Can You Use Aquaphor For Diaper Rash?

Aquaphor is a general-purpose ointment that is formulated to repair and heal the skin fast.
It is used to help heal faster several skin discomforts like diaper rash, itchiness, and blemishes.
Aquaphor is a petroleum-based ointment similar to Vaseline and contains mineral oil, ceresin, lanolin alcohol, panthenol, glycerin, and bisabolol which acts as a protectant to the baby's delicate skin.

Difference Between Vaseline and Aquaphor
By appearance, both Vaseline and Aquaphor might look the same.
However, they are different in their chemical composition. For example, Vaseline is considered to be 100% petrolatum (i.e., petroleum jelly) whereas Aquaphor is only about 41% petrolatum.
Aquaphor contains other medicinal ingredients such as lanolin and glycerin while Vaseline does not.
From an application perspective, Vaseline might be used as a lubricant in lotions whereas Aquaphor is not used in lotions.

Why is it good for diaper rash?
Since Aquaphor is a petroleum-based ointment, it works as a skin protectant to the skin of your baby to help protect from diaper rash, wetness, painful chafing, and acidity.
Furthermore, it helps soothe the skin and restore it to a healthy and smooth skin faster.

What to look for in buying Aquaphor?
When buying an Aquaphor to treat baby's diaper rash, ensure to look for the following:
Made for babies (Labeled as Aquaphor Healing Ointment Baby).
Pediatrician recommended label.
Good Housekeeping seal.

How long does Aquaphor need to be used?
Aquaphor is useful for preventing diaper rash before it starts by protecting the skin. Note that Aquaphor is clinically proven to relieve diaper rash within 6 hours of application.
To ensure that the diaper rash will be healed completely, Aquaphor is advised to use continuously until the suspected irritant has healed and gone completely.

Are there any side-effects of using Aquaphor?
A severe allergic reaction to Aquaphor is very rare. However, if skin allergies occur, seek medical attention immediately. All in all, there are no known common side effects for using Aquaphor as a skin protectant and barrier.

Key References
"The Good Housekeeping Seal: Frequently Asked Questions". Accessed August 17, 2019. Link.