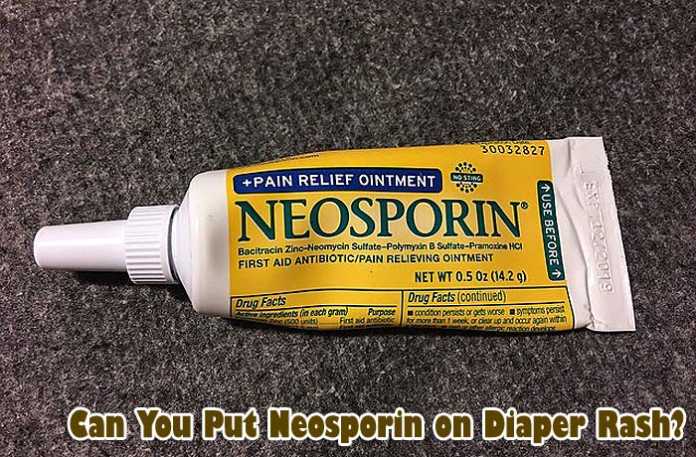 As we all know that Neosporin or Polysporin is used for small cuts or bruises as an antibiotic ointment. However, can you put Neosporin on diaper rash?
If so, how does it help to heal the diaper rash faster? Is this an effective diaper rash treatment? Explore the answers for these questions on this page.
We ♥ honesty! Diaper News earns a commission through the following hand-picked links at no extra cost to you.
Can you put Neosporin on a diaper rash?
The short answer is YES provided if the diaper rash is from bacterial in nature. You should consult with the doctor to see if Neosporin is the right treatment option for your baby's diaper rash. You can put Neosporin on a diaper rash with just a small amount of it. However, you cannot overdose an antibiotic ointment like Neosporin; and if your baby's diaper rash is bacterial, putting Neosporin can help.

Neosporin is an antibiotic ointment that contains neomycin, polymyxin, and bacitracin. It is used to stop the growth of bacteria, treat, and prevent minor skin infections, including bacterial diaper rash.

Why is it good for diaper rash?
If your baby's diaper rash is bacterial, Neosporin can help it heal faster while keeping it moisturized. However, before using Neosporin to your baby, make sure to ask your doctor first since Neosporin is not always advisable for babies, especially with sensitive skin.

What to look for in buying Neosporin?
When buying a Neosporin, make sure to look for the following for safety:
Expiration date.
Labeled as Original Ointment.
Check Price at Amazon

How long does Neosporin need to be used?
With a small amount of Neosporin, you can use it to your baby's diaper rash once or twice a day. Make sure to clean the affected area so that it will be free from dirt before applying Neosporin.

Are there any side-effects of using Neosporin?
Neosporin is usually tolerated. There are no severe side-effects of using this antibacterial ointment. However, if you notice that the diaper rash is not being treated, stop using it, and seek the doctor immediately.

Other Diaper Rash Treatment Options
Olive oil for diaper rash
Bag Balm on diaper rash
Witch hazel for diaper rash
Antifungal cream for diaper rash

Key References
"Antibiotic 3.5 Mg-10,000 Unit/G Topical Cream" – WebMD. Accessed August 18, 2019. Link.