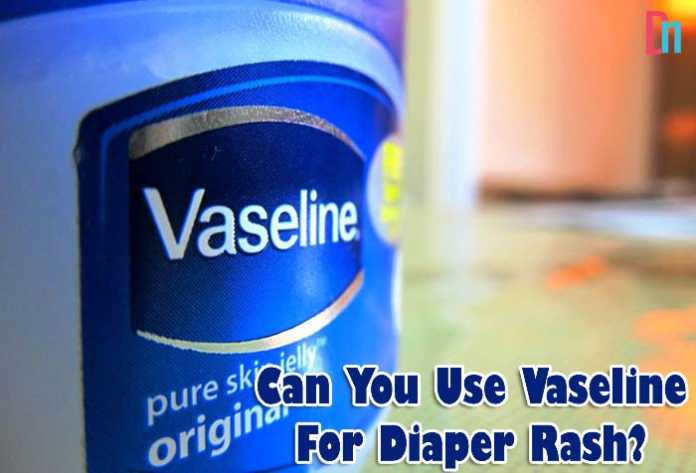 Can You Use Vaseline For Diaper Rash? Irritant Diaper Dermatitis (IDD) is a general term applied to skin rashes in the diaper area that are caused by various skin irritants.
Diaper rashes typically are seen on the folding skin areas (i.e., convex surfaces) attributed by joined patches of central redness.
So, there are many common questions such as – Can you use Vaseline for diaper rash? Or does Vaseline help diaper rash? Or is Vaseline good for diaper rash? and more.
We ♥ honesty! Diaper News earns a commission through the following hand-picked links at no extra cost to you.
In this page, we will explore the answers in detail.
Can you use Vaseline for diaper rash?

Vaseline Jelly or Vaseline is made of pure petroleum jelly that is composed of waxes and mineral waxes. It works as a barrier between cells in damaged or dry skin to locks in moisture as well as to speed up the skin's recovery process.

Why is it good for diaper rash?
Vaseline has a lot of benefits to your skin, including treating diaper rash. This diaper rash can be caused by different factors, like friction due to tight diaper, or the skin is exposed to a dirty diaper for hours.
Vaseline is good for diaper rash because it creates a protective barrier to free the skin from dirt and other chemicals found in a diaper so that your baby's skin will not get irritated, moisturized, and soothed.

What to look for in buying Vaseline?
When buying a Vaseline Jelly, make sure to look for the following:
Vaseline Triple Purification seal.
Labeled as 100% petroleum jelly.
Comes in the original formula.
Best Vaseline For Diaper Rash
Best Choice
This Vaseline Petroleum Jelly is our top pick for diaper rashes. It helps in all kinds of skin irritations. It also works well for chapped lips and hands.

How long does Vaseline need to be used?
If you are wondering how long does Vaseline need to be used, you can use it until the skin gets healed, but if it is still dry, you can always use Vaseline after your baby took a bath.

Are there any side-effects of using Vaseline?
As for its side effect, no need to worry because there are no known common side effects of Vaseline Jelly, meaning that it's unlikely to cause a skin reaction. It is hypoallergenic and non-comedogenic, meaning it would not clog the pores.

Suggested Readings:
Key References
"Petroleum Jelly: Uses, Benefits, Dangers, and More". Accessed August 16, 2019. Link.
"Koster Keunen – Mineral waxes". Accessed August 16, 2019. Link.