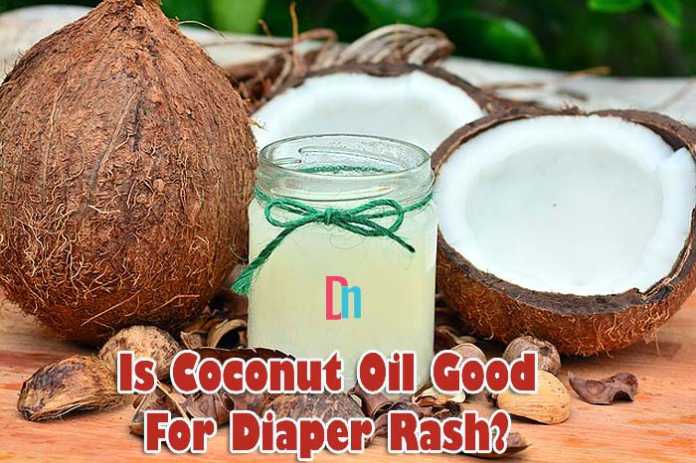 Is Coconut Oil Good For Diaper Rash? Diaper rash is a normal condition that most babies experience in their first few months of life. Diaper rash makes baby's skin irritated, red, flaky, and painful. In the majority of times, diaper rash will clear up with minor changes in diapering.
In this page, we will explore the questions such as is coconut oil good for diaper rash? Can you use coconut oil on diaper rash? and other coconut oil and diaper rash-related questions.
We ♥ honesty! Diaper News earns a commission through the following hand-picked links at no extra cost to you.
Coconut oil is an organic product that helps to moisturize the skin and treat diaper rash due to its immune system and anti-inflammatory boosting properties.
It also includes fatty acids that create a barrier against infection and other allergic skin reactions.
In Asian countries such as India and Japan, Coconut oil has been used as a natural moisturizer for centuries. Special thanks to the fatty-acid in the coconut oil act a hydrating moisturizer. You can use coconut oil for skin rash too.
In pure organic coconut oil, the following fatty acid components can be found namely lauric acid (49%), myristic acid (20%), palmitic acid (8%), caprylic acid (7%), capric acid (5%) and stearic acid (3%).

Is Coconut Oil Good For Diaper Rash?
Absolutely! You can use coconut oil for diaper rash. Aside from being organic, coconut oil contains several boosting properties and other nutrients that work well to treat diaper rash without causing pain or burning sensation.
The moment coconut oil is applied to the affected diaper rash area as diaper cream, the pores in the skin absorb the oil, which will sufficiently hydrate the skin.
Coconut oil is a natural product that has a lot of benefits, including treating diaper rash. It hydrates and soothes the skin and provide a moderate amount of barrier to protect the skin, making it great to use for treating diaper rash.
Check Price at Amazon

What to look for in buying coconut oil?
Using coconut oil on nappy rash helps to treat your baby's skin. So, make sure to look for the following when buying the coconut oil on the market place:
Organic virgin coconut oil.
All-natural, pure, and unrefined.
Check Price at Amazon

How long does coconut oil need to be used?
Since coconut oil is all natural, you may use it on your baby's skin as needed or until the rash is completely gone and healed. Coconut oil will not just treat diaper rash but also moisturizes the skin of your baby and keep it soft.

Are there any side-effects of using coconut oil?
Using coconut oil is a natural remedy to protect the skin of your baby from rashes. Typically, Coconut oil does not have any side effects because it is all organic and very safe to use, even with babies that have sensitive skin. Skin reactions to coconut is extremely rare.

Other Diaper Rash Questions
Bag Balm on diaper rash
Witch hazel for diaper rash
Antifungal cream for diaper rash

Key References
"Carrington – 01/13/2015 | FDA". Accessed August 19, 2019. Link.